We didn't make the Fiandre jacket specifically for Tinkoff Saxo but when they tried it they knew they had to have it…
Their first real test of the Fiandre Light WS jacket came on at the Giro d'Italia in the horrendous conditions that the riders faced as they scaled both the Stelvio and Gavia.
Non abbiamo realizzato la Fiandre Jacket per Tinkoff Saxo, ma quando gli atleti l'hanno provata si sono resi conto che non potevano farne a meno.
Il primo vero test in gara della Fiandre Light WS Jacket è avvenuto al Giro d'Italia in condizioni climatiche terribili con gli atleti che hanno affrontato la scalata sia dello Stelvio che del Gavia.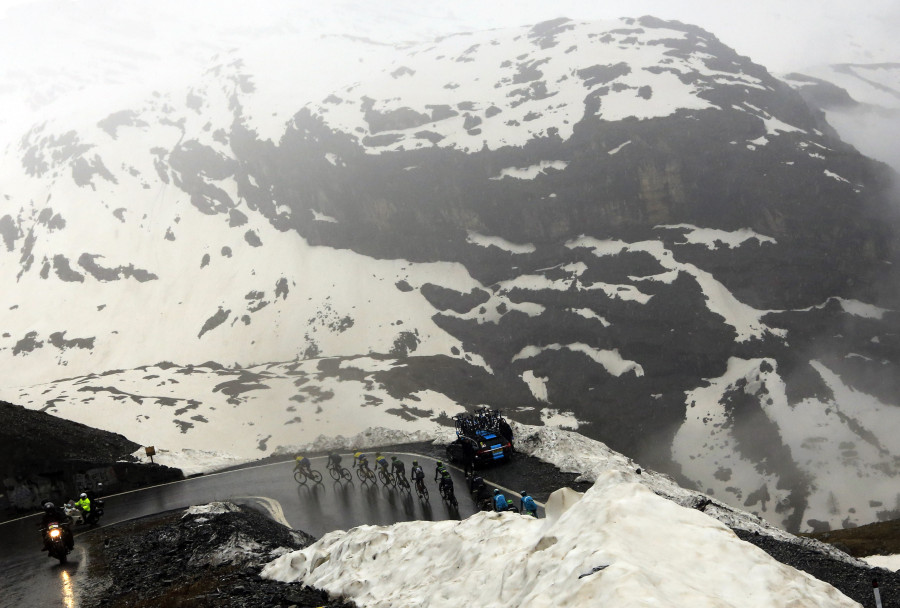 10ft walls of snow turned the roads into an icy tunnel with a blizzard howling down it, like a windtunnel test in hell(but much colder)
Muri di neve a lato strada alti 3 metri avevano trasformato l'asfalto in un tunnel di ghiaccio con una bufera di neve nel mezzo, come un test in galleria del vento, ma in un inferno di gelo.
Bjarne Riis describes the stage here –
The jacket combines the amazing properties of WindStopper® to shelter the rider from windchill and rain and a few small NoRain panels to increase breathability and give the jacket a closer fit. The result is an incredibly lightweight jacket that blocks out the worst of weather but has the breathability and aerodynamic tailoring that allows you to ride full gas whatever the weather.
La giacca riunisce le incredibili proprietà del WINDSTOPPER® proteggendo il ciclista da vento e pioggia, con l'inserimento di alcuni piccoli pannelli in tessuto NoRain per aumentare la traspirabilità e conferire una migliore vestibilità. Il risultato è una giacca incredibilmente leggera che protegge dalle condizioni peggiori, ma con la traspirabilità e l'aerodinamica che permette di andare forte con qualsiasi condizione.
Alberto Contador has been using the jacket for the last year, both in races and in training, it's already become a favourite and when we showed him the Fiandre NoRain Light Jacket he had to have one of those too! His feedback on that was so positive that the whole team requested it for 2015 so look out for it in the peloton on rainy days.
Alberto Contador ha utilizzato la Fiandre Jacket durante tutto l'anno, sia in gara che in allenamento, ed era diventato uno dei suoi capi preferiti e quando gli abbiamo mostrato il Fiandre NoRain Light Jacket, si è reso conto di averne uno di troppo!
La sua sensazione è stata così positiva che tutta la squadra l'ha voluta per il 2015, quindi fate attenzione che la vedrete nelle volate dei giorni di pioggia.
See the full FIANDRE range HERE