Tinkoff-Saxo's nine riders will tackle the season's landmark race wearing a kit by Sportful that blends the team's colors with those of its popular camouflage training kit.
With less than a month left until the start of the world's most famous and prestigious cycling race, Tinkoff-Saxo and its partner Sportful are pleased to present a kit that will certainly stand out as the peloton rides through France in the month July.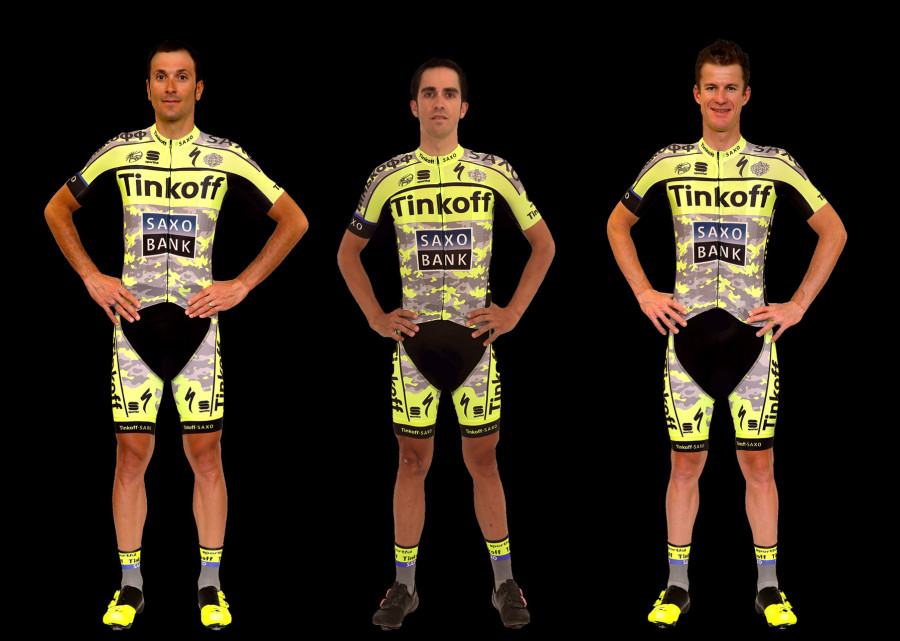 Given the overwhelming success of the innovative camo training kit that Tinkoff Saxo presented last December and its widespread use by amateur cyclists around the world, it seemed only natural that some of its elements would be incorporated in the sleek new kit Tinkoff-Saxo riders will don at the Tour de France.
While the kit our nine-strong squad, spearheaded by team leader Alberto Contador, will wear in France retains the traditional yellow and blue colors of the team, grey, in the form of camo patterns, takes a more prominent place on the shirt, bib shorts and socks.
As Contador stated, "I really like the Tour de France kit. It's a nice combination of this season's racing kit and the one we started using in our training camp in Gran Canaria last December. I like its colors and, hopefully, so will our fans."
Tinkoff-Saxo's training and racing kits are a result of the very strong and close partnership between Sportful and the team, and the continuous feedback provided by its riders. Whether it is suggestions for new products, adjustments to little things like zips, seam placement or seatpad preference, every small detail is taken into account for the design, not just for team clothing but the whole Sportful collection.
A limited release of the Tour de France kit will go on sale starting June 15th from selected retail partners.