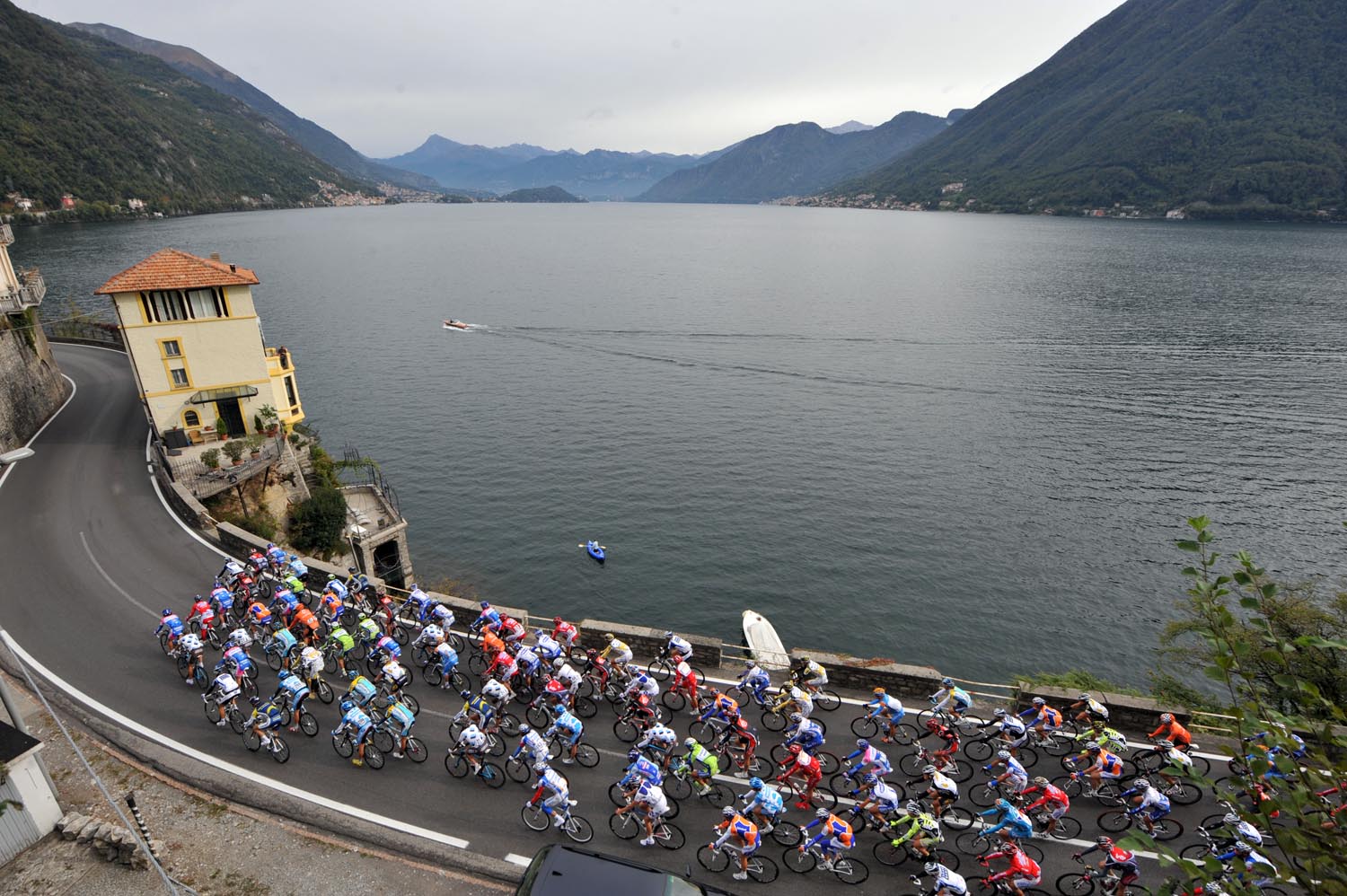 Il Lombardia. The race of the falling leaves. Now over 100 years old it's the classic that's been run consecutively since 1905 with only two year cancelled due to WW2.
The climbers' classic, weaving round the hilly south coast of lake Como with its steep climbs and technical descents. Its been won by GC Champions, all-rounders and classics hard men over the years and coming just before the World Championships it's a chance to test the legs for some and a way to finish a season or a career for others.
The climbs are as famous as the race itself – the Madonna del Ghisallo, not the hardest of climbs but renowned for its panoramic views of Como and of course the church at the top dedicated to the patroness of cyclists, along the monument and the museum, a pilgrimage for cycling tifosi.
Muro di Sormano is the other fabled climb, well deserving of its name 'muro' (wall in Italian) its 1,7km averages 17% with pitches of 25%. The races that have taken in this climb are often decided by it, if not the first rider to the top, the one who has the least fatigue to deal with on the descent. The climb is so severe it was removed for the race for 50 years and even now doesn't feature in every edition.
Unlike many of the classics, Il Lombardia's route has changed significantly over the years, from a Milan-Milan start-finish until 1960 to an alternating Bergamo/Como start finish for the last four years. Back in 2004-2006 it even started in the Swiss town of Mendrisio for a few editions. What remains the same is the tough route, beautiful scenery and aggressive racing.
It is a day for those with strong will and grit. An October date can mean warmth and sunshine or torrential rain and freezing wind, there's hardly a moment of 'transition' throughout the route, meaning riders have to stay focused for over 240km. In recent years it has been strong riders with punchy climbing talent such as Gilbert, Cunego, Rodriguez, Dan Martin and most recently Vincenzo Nibali with his seat-of-the-pants descending. Lombardia is not a race for those who hide in the peloton.
For some, the roads of Lombardia are the last racing kilometers of their career, Cadel Evans, Marco Velo, Nicki Sorensen, Thomas Lofkvist and 3 time winner Damiano Cunego* all chose Lombardia as their last race, the amber glow of autumn leaves a poignant and fitting setting to say goodbye.
The 110th  Giro di Lombardia starts at 10:50am on Saturday 1st October 2016 and finishes around 5pm – you can watch it on Eurosport, Rai and a number of other channels from around 2:30pm CET.
*After his supposed retirement Cunego signed a contract for the next year, perhaps hoping to add another Lombardia victory before bowing out
photos – Augustus Farmer, BettiniPhoto