When the temperatures drop, the days get shorter and the weather a little less pleasant it's often hard to find motivation to keep riding your bike. In the past one of the big barrier to getting out in winter was comfort, either you got cold and wet or you overheated wearing bulky clothing that wouldn't look out of place on the ski slopes.
Fortunately clothing technology has greatly improved in the last few years so winter riding can be a joy rather than a chore.
Here's a guide to the best way of layering up for winter conditions.
---
COLD & DRY
Probably the toughest conditions to dress for in the past – you want to be warm, but you don't want to overheat, especially when the sun comes out. Windstopper® jackets are idea for these conditions – their wind blocking membrane keeps cold air out while allowing perspiration to escape, for added breathability you could choose a product with Thermodrytex or NoRain panels that enhance moisture management while still providing thermal protection. For added warmth a jacket with Polartec® Alpha® insulation provides a warm barrier against cold air.
Suggested jackets –
For your legs it's important that the tights fit as close to the body as possible, loose material means air pockets that will cool down fast. Double layers of thermal materials over the muscles help with cold weather performance and prevent cramp.
Suggested tights –
Keeping your extremities warm is also important, cold hands can impact on your bike handling, cold feet cause numb pedaling. Windstopper® fabrics ensure the cold air is blocked out while allowing perspiration to escape.
Suggested accessories –
---
COLD & WET
When it's cold and wet you have two objectives – keeping warm and staying dry. In the past the first objective was more important, especially when older waterproof membranes often made you overheat and you would find yourself soaking wet from sweat under your jacket. Advances in material technology mean that modern waterproofs like Polartec® NeoShell® are also capable of high breathability so you can stay dry and avoid the chilling effect of perspiration cooling down inside your jacket.
Suggested jackets –
Fiandre Extreme NeoShell® Jacket
Completely waterproofing your legs isn't really a comfortable option when cycling, you need good stretch and soft materials on the part of your body that moves the most. The important thing is keeping them as warm and dry as possible. NoRain thermal is a fabric that has a warm fleeced inner that dries fast if it gets wet and a NoRain treatment that mean water is repelled from the surface. Additional features like the spray flap on the back of the Fiandre NoRain bibtight help prevent water ingress from puddles and wheel spray.
Suggested tights –
Wet hands and feet are no fun and difficult to keep warm when they are soaked. Our Fiandre accessories feature waterproof lining whilst our neoprene accessories trap warmth in like a wetsuit – if you run cold then choose Fiandre, if you tend to run warm choose neoprene. A wool sock is better than a synthetic as wool remains warm even when wet.
Suggested accessories –
---
DEEP COLD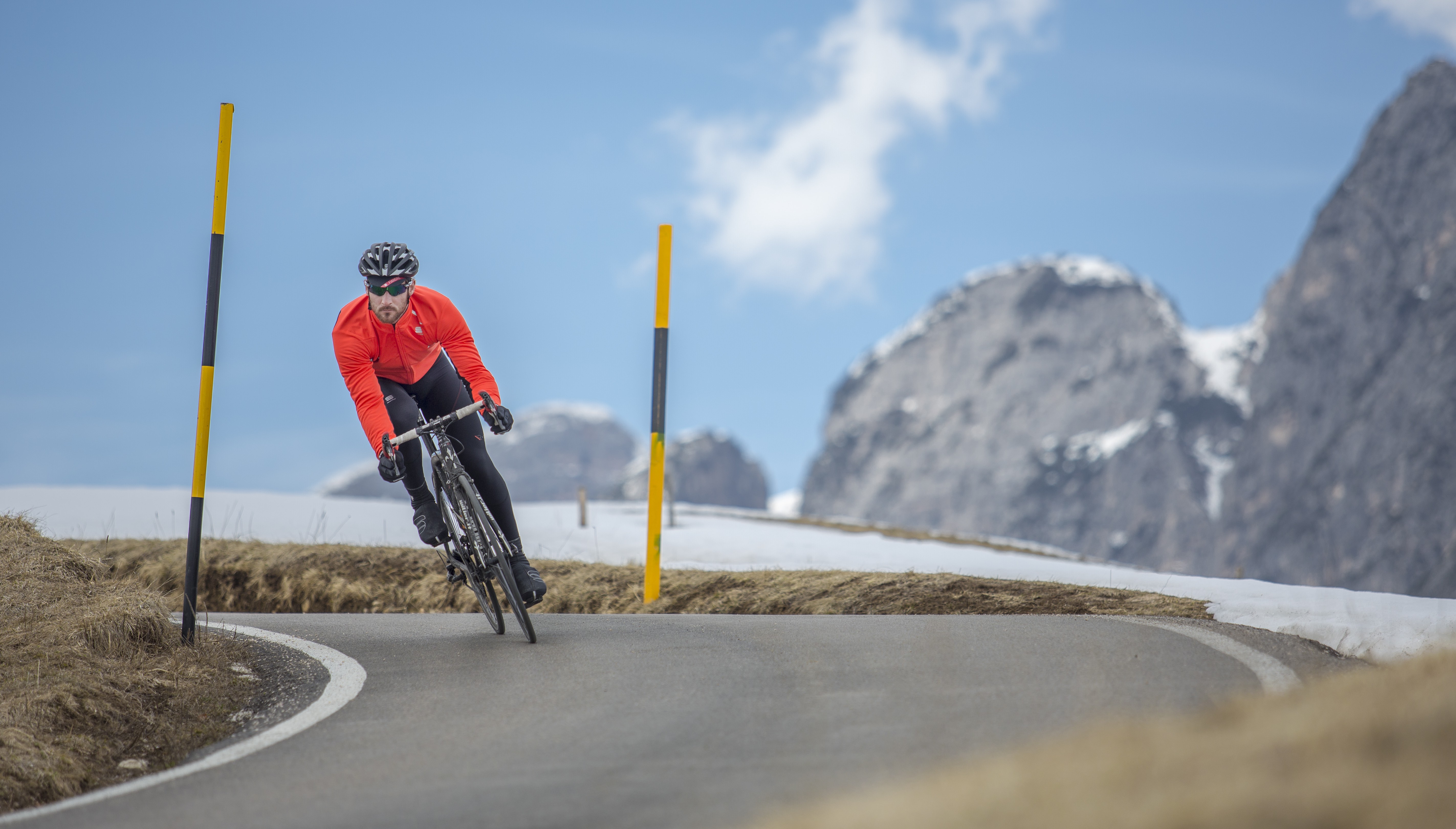 For those of you that like to venture out when the mercury is really low the important thing is of course to stay warm. That means making sure that body heat is kept inside the jacket and that extremities are well protected to prevent the 'domino effect' of circulation issues. Jackets like the R&D Zero feature a lofted Polartec® Alpha® layer that's similar to the effect of a down jacket, warm air is trapped and cold air blocked. The other method of keeping the heat in is to increase the density of the fabric, jackets like the Fiandre NoRain feature the thick Windstopper® Warm material that completely blocks wind and provides thermal insulation. For wet weather the Fiandre also features NoRain technology for water resistance.
Suggested jackets –
Though your lower half normally stays warmer when cycling, thanks to the muscles being used, when it gets really cold not only do you lose the warmth from the muscles in use but the cold can stop them functioning properly and create cramps. For deep cold conditions it's worth considering a Windstopper® equipped tight that blocks cold air from your legs or at least a tight featuring double layered fabric which adds insulation.
Suggested tights –
As mentioned it's best to prevent the 'domino effect' – when the body get's cold it shuts off circulation to the extremities, first hands and feet, then arms and legs etc. To prevent this make sure you are adequately insulated from head to toe. Our Sottozero product feature lofted fibres that trap warm air from your body while still allowing moisture to escape.
Suggested accessories –
---
As with all clothing, taste in fit, warmth and protection can vary person to person, if you've got a favourite cold weather combination let us know in the comments below.