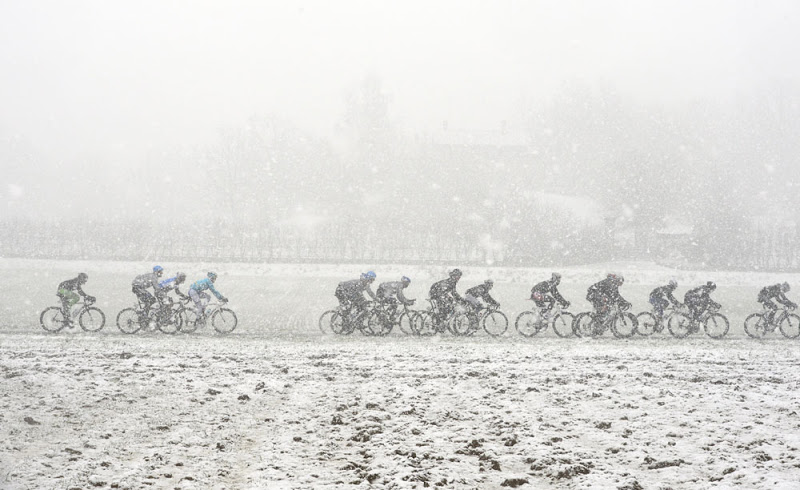 Unseasonably cold & severe conditions shaped last year's Milan – Sanremo and it looks like the weather will play its part once again, this year.
With heavy rain forecasted, the correct apparel choices can be crucial in not only surviving the race but also preserving energy for the finale.
The Cipressa and Poggio may not be the steepest of climbs but MSR is a race of attrition.
A change in course could see fast finisher, Daniele Bennati at the forefront of this race with the exclusion of the tougher climbs and backed by a strong team…
Tinkoff – Saxo will be looking to stay, warm and comfortable in the early stages of the race.
Here are a few essential pieces of apparel from their "wet weather bag" …
The Survival Jacket is key to their race strategy, constructed from Gore-Tex Active shell; this jacket provides breathable protection from the rain. A drop down tail, keeps the road splash from soaking through their bib-shorts. "Pit zips," allow for cross ventilation and airflow without slowing the riders down. Zippered cuffs, allow for an easy "on and off" when the weather changes or the racing heats up…
Wet Lite Booties keep feet dry and comfortable. In mild wet conditions these are the perfect solution. A PVC coating keeps the rain out; the non-insulated Lycra ensures a close fit without cause for overheating.
No Rain Warmers – both the arm and knee warmers will ensure the riders are warm and comfortable. Sportful's nanotechnology provides excellent water repellency without compromising breathability.
Neoprene Gloves –  ideal for the forecasted conditions. A Neoprene construction provides excellent insulation, the hands may be wet but they'll remain warm. A silicone coating print on the palm, provides additional grip, complimented by a Kevlar insert for increased durability. (This won't be the last wet race of year!)
So there you have it, a little insight into what the pros will be wearing for MSR. It's one of favourite races – we can't wait!!