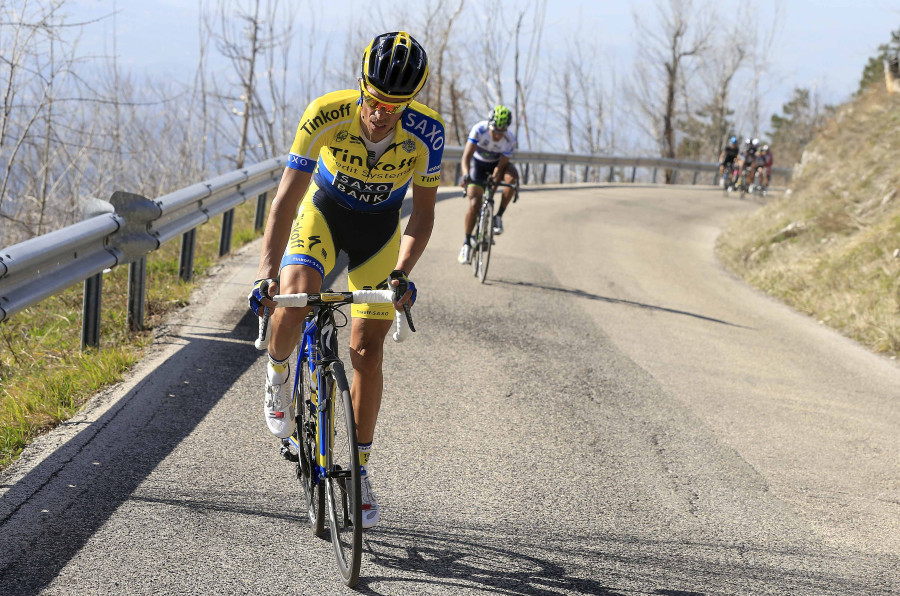 One of our favourite additions to the SS14 collection is the AC Vuelta Sock.
As with all our best apparel there's a story behind the product….
"AC" (Alberto Contador) doesn't just "climb" mountains! His light, fast pedalling action see's him out of the saddle for prolonged periods of time. Like all the great climbers he's almost  "dancing on the pedals" (Is there a better analogy to describe it?!?) But all of this is nothing without "happy feet"
A combination of modern day, carbon soled cycling shoes and a particularly hard and hot "Vuelta" inspired, what is our favourite sock.
Power transfer is diminished if you're suffering from "hot spots" on your feet… even if you're the best climber in the world. That burning sensation; pedalling a bike is the last thing you want to do, we've all experienced it.
The sock has a cushioned foot bed, helping to reduce points of pressure. To create a padded sock is relatively easy but not without it's negatives.
In the case of the AC Vuelta we've managed to keep the overall volume of the sock relatively low, considering the increase in comfort. Creating a non- restrictive feel, with no compromise to blood flow.
Constructed from polypropylene, Meryl Skinlife bacteriostatic yarns, that will keep your feet dry and foot odour at bay… A 9cm collar height, available in 4 colour ways – these socks will keep your feet happy whilst matching any of your cycling kit!