In this year's Tour de France you may have noticed a Tinkoff Saxo rider moving up through the peloton distributing bottles from his unusual black 'bottle vest'.
It's a simple innovation for a problem that has been in the peloton for as long as anyone can remember, a 'why didn't I think of that?!' invention that has captured the attention of the press and cycling fans alike.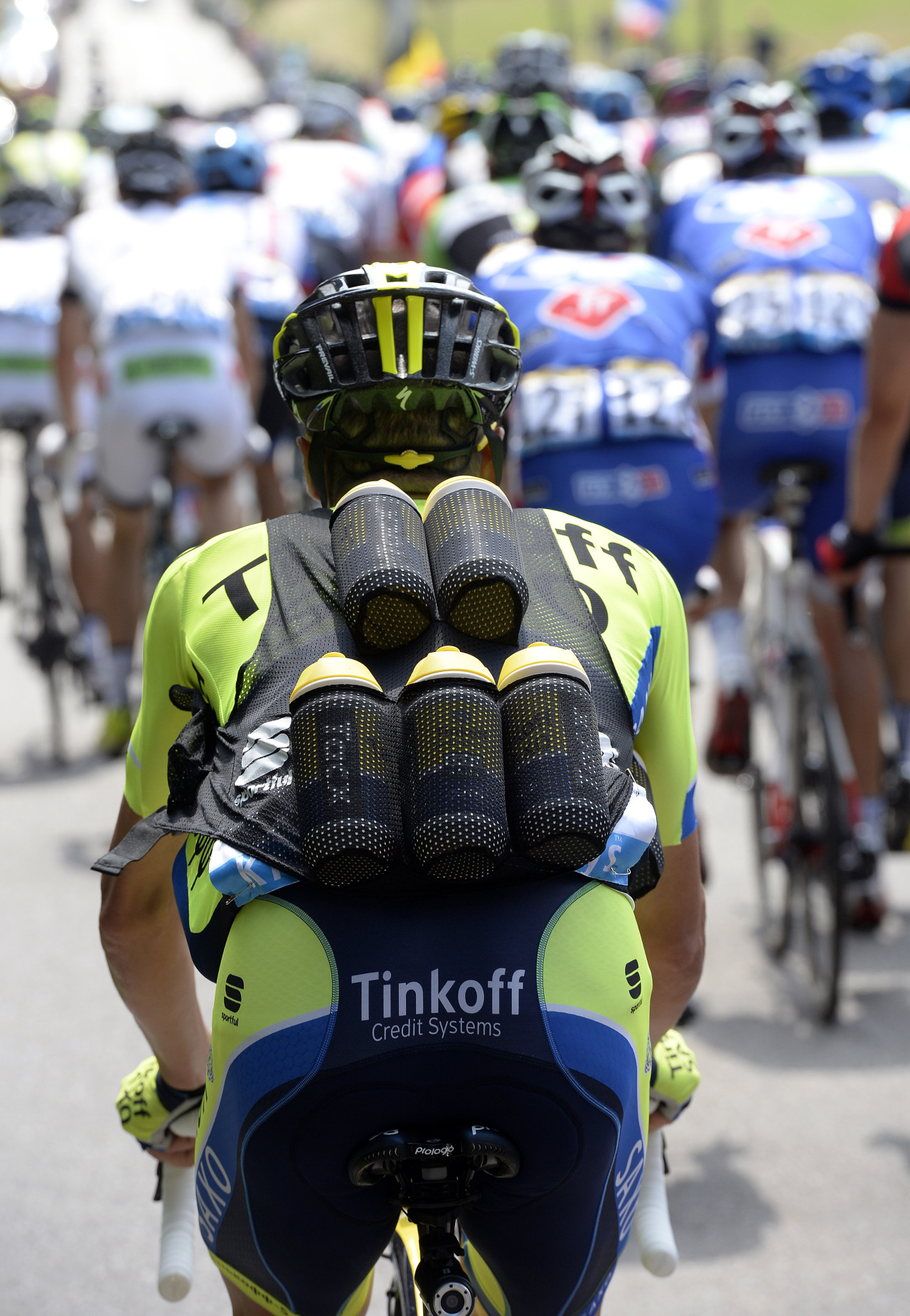 Here's more on the 'Bottle Vest' from Sportful brand manager Steve Smith…
With the advent of better fitting more aerodynamic jerseys, the old method of stuffing multiple bottles inside a jersey has become more and more difficult. Getting them in, keeping them in, and getting them out, in the heat of a race it can be frustrating, tiring and even dangerous.
At the Tour de France there are 200 guys who want to be at the front.
Moving back up the pack with bottles for the team consumes a lot of energy. With the 'Bottle Vest' they can take more bottles, they're held securely, and it takes only a few seconds to load up a rider with bottles for the entire team.
We calculated the 7 bottles because at 3.5kg it's not too heavy to pass from the team car. The 7 bottles in the vest plus 2 on the bike make 9 bottles, and with 2 riders picking up bottles that's a total of 18 bottles, 2 each for the 9 man team.
Safety was a big factor in the design, our Race Performance Director Andrea Peron remembers well the danger of a dropped full bottle in the middle of the group and the nasty crashes those can cause.
The vest is made in a light weight mesh so it doesn't weight the rider down or cause him to overheat. After the bottles are distributed, the vest easily packs away in a jersey pocket to be delivered to the team car when the rider picks up a new fully loaded vest. Although in crucial moments of the Tour the riders can toss them away making a unique souvenir for a lucky fan!
Here's a selection of articles written about our invention…
Business Insider – This Incredibly Simple, Clever Invention Solves An Old, Annoying Problem For Tour De France Teams
Read more: http://www.businessinsider.com/water-bottle-vest-for-cyclings-tour-de-france-riders-and-teams-2014-7#ixzz37QwXAFlM (featuring some nice .gifs of the vest in action)
Le Equipe – La nouvelle astuce pour porter les bidons sur le Tour de France ! (French)
http://www.lequipe.fr/Cyclisme-sur-route/Actualites/Une-veste-bidonnee/482171
Peloton – New water bottle vest at Tour de France
http://pelotonmagazine.com/goods/new-water-bottle-vest-at-tour-de-france/
Bicycling – Tinkoff Saxo's Sportful Water Bottle Vest (VIDEO)
http://www.bicycling.com/video/tinkoff-saxos-sportful-water-bottle-vest#/video/all
Cycling Weekly – Tinkoff-Saxo's Tour de France water bottle vest
Read more at http://www.cyclingweekly.co.uk/racing/tour-de-france/tinkoff-saxos-tour-de-france-water-bottle-vest-130074
PEZ Cycling News – Sportful Designs Innovative Bottle Vest Requested by Bjarne Riis
http://www.pezcyclingnews.com/page/newswire/?id=132417#.U8Ok4I2SzTA
CyclingTips – Le Tour tech: Bidon vests, turbo tyres, ear pieces and more…
http://cyclingtips.com.au/2014/07/tech-of-le-tour-bidon-vests-turbo-tyres-earpieces-and-more/
Sticky Bottle – Ingenious new contraption
http://www.stickybottle.com/latest-news/anybody-see-the-ingenious-new-contraption-nicolas-roches-team-is-using-on-the-tour/