By now many of you will have seen Global Cycling Network's latest video with Matt Stephens asking Matti Breschel of Tinkoff Saxo to show them all his kit (at last check it had over 50,000 views!) If you haven't you can see it below…
We thought we would go into a little more depth on which products the team get, so without further ado, here's their full kit list…
(if you want to know more about any of the products just click on their name, almost everything we give the team is available to the public too)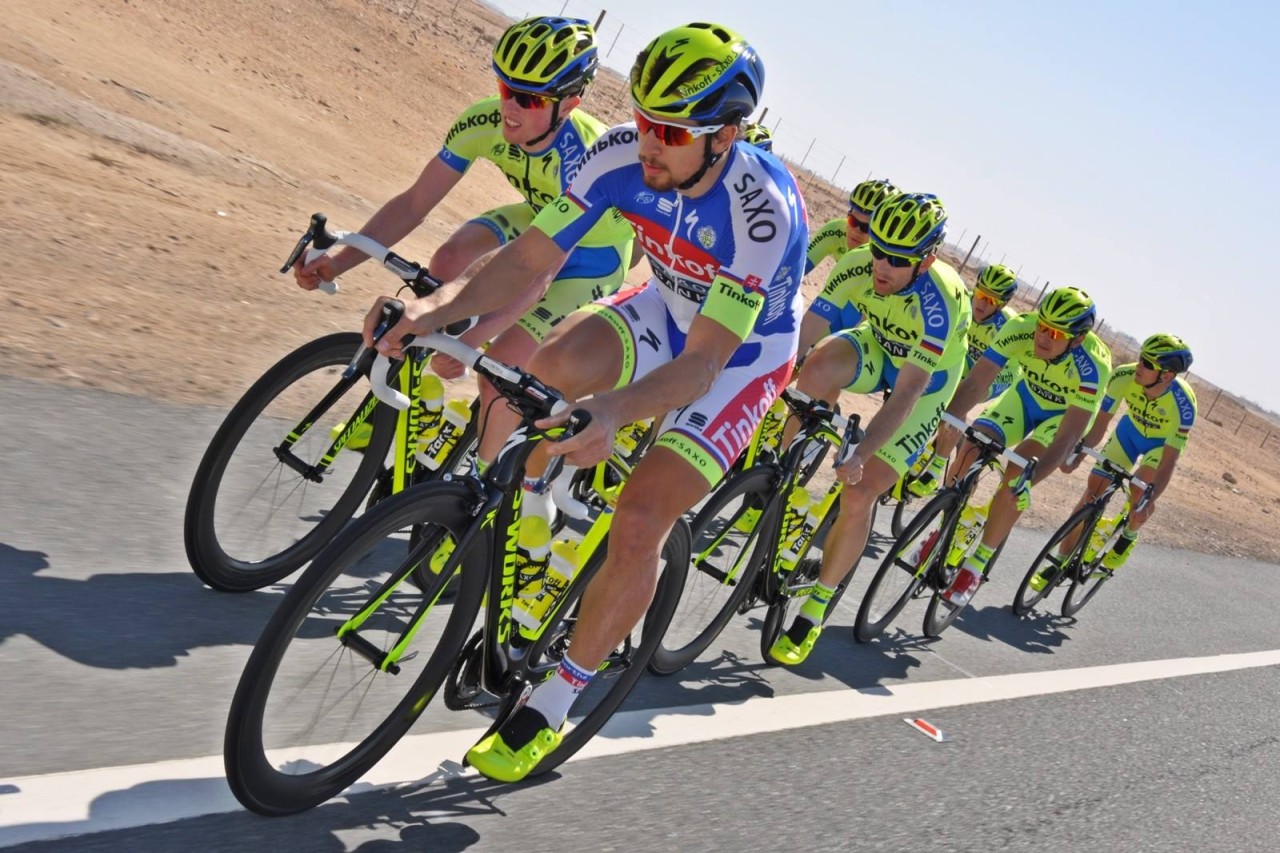 Jerseys
R&D SpeedSkin – Our ultra fast aerodynamic jersey for those breakaway days, just ask Michael Rogers how fast it is – enough to help him win a few stages last year!
R&D Ultralight – The lightest and most breathable jersey we make, open mesh for ventilation but still blocks UV – Rafal Majka's favourite for grabbing that KOM!
BodyFit Pro Race – By now this has become the 'standard issue' race jersey of the team, aero, breathable & light & also drys very fast, the perfect all weather jersey.
BodyFit Pro Team – We made this as a training jersey but it fits so good the team use it for cool weather races too, good enough to make the top step of the podium at the Tour of Flanders…
BodyFit Pro Thermal LS – An insulated jersey for keeping the riders warm when they are putting in those winter base miles, occasionally seen in early season races too.
BodyFit Pro Speedsuit –  OK, not technically a jersey but one of the fastest skinsuits on the market, what is even more surprising is that the stretch construction allows almost all of the team to use our standard sizes rather than completely custom kits for each rider, you find these in our Custom team programme & have them made in your club graphics.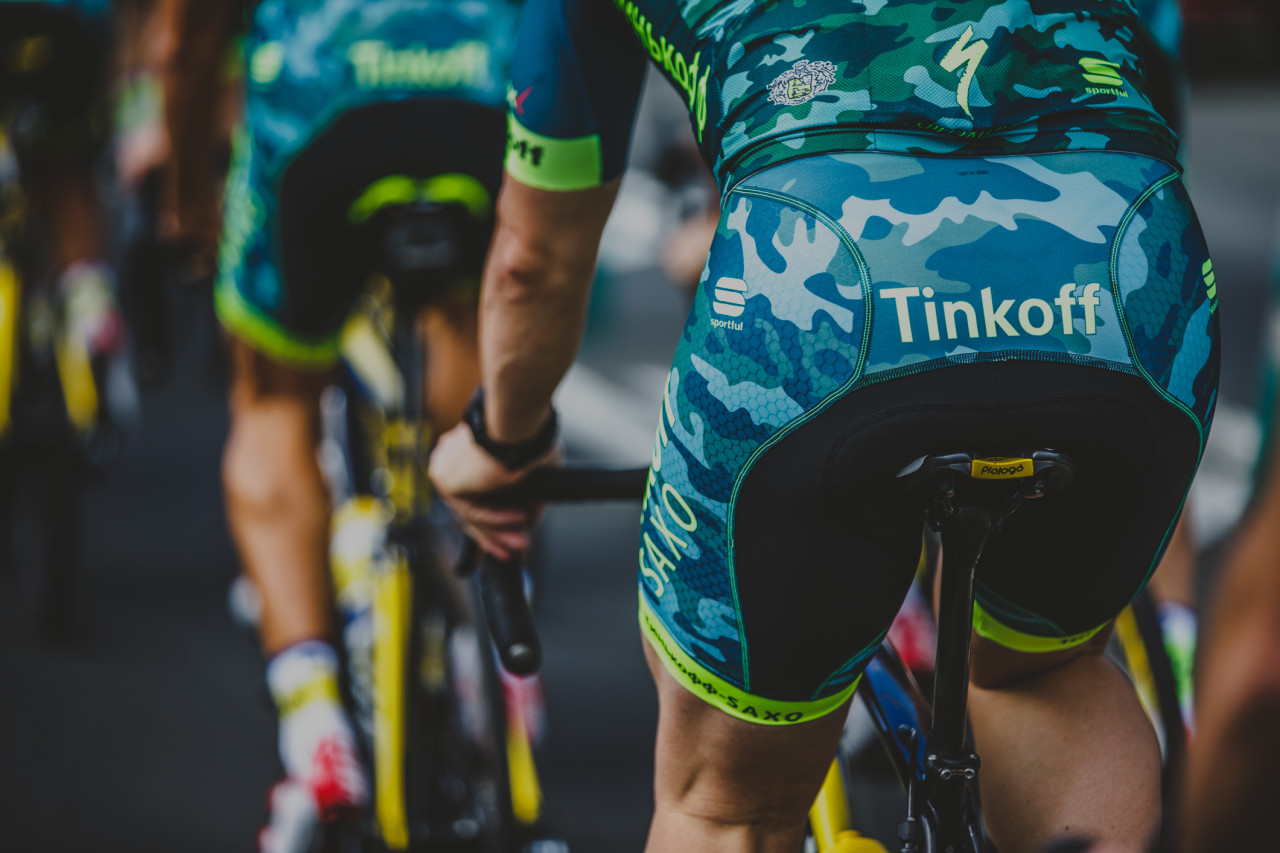 Shorts & Tights
BodyFit Pro Ltd – The ultimate bib short! Featuring Aerodynamic compression fabric, the most comfortable bib straps on the planet and the TC Pro pad perfect for long days in the saddle.
BodyFit Pro Classic – as above but with the low profile BodyFit pad and mesh straps – because chamois preference is pretty personal.
BodyFit Pro Thermal Bibtight – a cosy thermal bibtight with dual layer insulation and our BodyFit construction for great comfort & performance.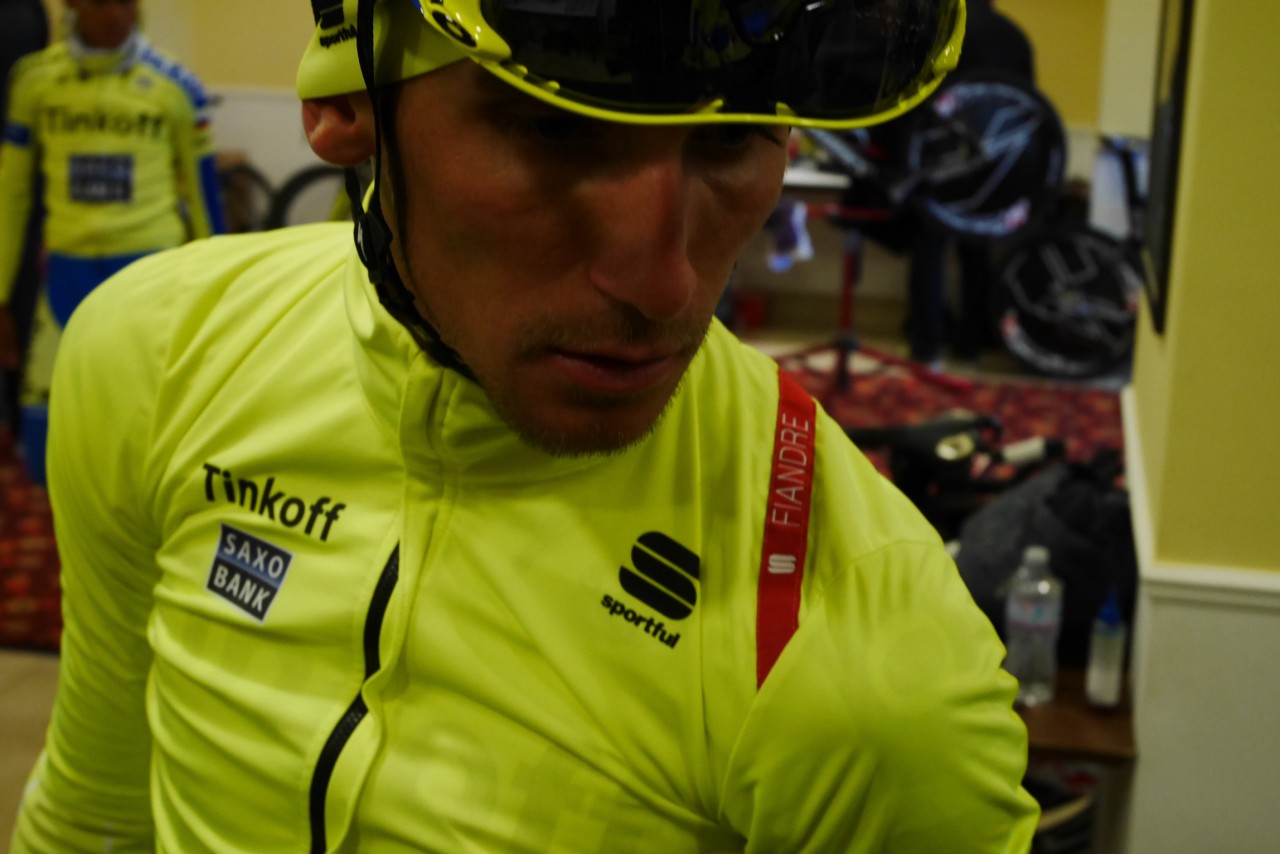 Jackets

Fiandre Light WS – One jacket to rule them all – this jacket excels in all less than perfect weather, lightweight, Windstopper® protection with a fit that makes you forget it's a jacket, race tested from the muddy pave of Fiandre (Flandres in Italian) to the snow lined Stelvio.
Fiandre Light NoRain SS – We gave one of these to Contador last year, he liked it so much that the entire team asked for it this year! Ultralight protection for changeable conditions now in short sleeve & vest versions too.
Survival Gore-Tex® Jacket – For those days when it looks like they might cancel the race – the ultimate Gore-Tex® protection in a BodyFit construction so you lose your rivals not your watts.
BodyFit Pro WS – A full Windstopper® jacket for cold weather training, breathable & warm without any bulk. Great for windy echelon training rides!
BodyFit Pro Aero Wind Vest – Lightweight Windstopper® protection for blocking out cold headwinds without reducing breathability or aerodynamics.
Baselayers
2nd Skin X-Lite T-Shirt & Sleeveless – An ultra stretchy wide mesh baselayer which helps riders maintain a balanced temperature in a variety of conditions.
Thermo Dynamic T-Shirt & Sleeveless – New for 2015 a very light summer baselayer with minimal seam construction for all day comfort.
BodyFit Pro T-Shirt & Sleeveless – The perfect partner for well fitted jerseys & shorts – two types of mesh helps increase breathability in areas that need it most, BodyFit construction means your jersey fits how it's supposed to.
2nd Skin Deluxe Long Sleeve & T- Shirt – the winter baselayer of choice, warm and comfortable but still breathable enough to keep you dry when the pace picks up.
Gloves
BodyFit Pro Glove – Most pros would prefer to ride without gloves in summer, so we made a glove that feels like there's nothing there, minimal padding and very light lycra – even Bjarne Riis likes these gloves and he's a tough guy to please!
Impronta Glove – the classic knit glove is the training choice of most riders, a little insulation but plenty of grip and no sweaty palms!
Neoprene Glove – a wetsuit for you hands to keep them functioning in the worst conditions, flexible and light but totally weatherproof.
Doppio Glove – A thicker insulated glove for winter training, double layered for warmth & wind protection.
WS Essential Glove – If the Fiandre WS is the 'one jacket' then this is the one glove you should own, total Windstopper® protection but zero bulk.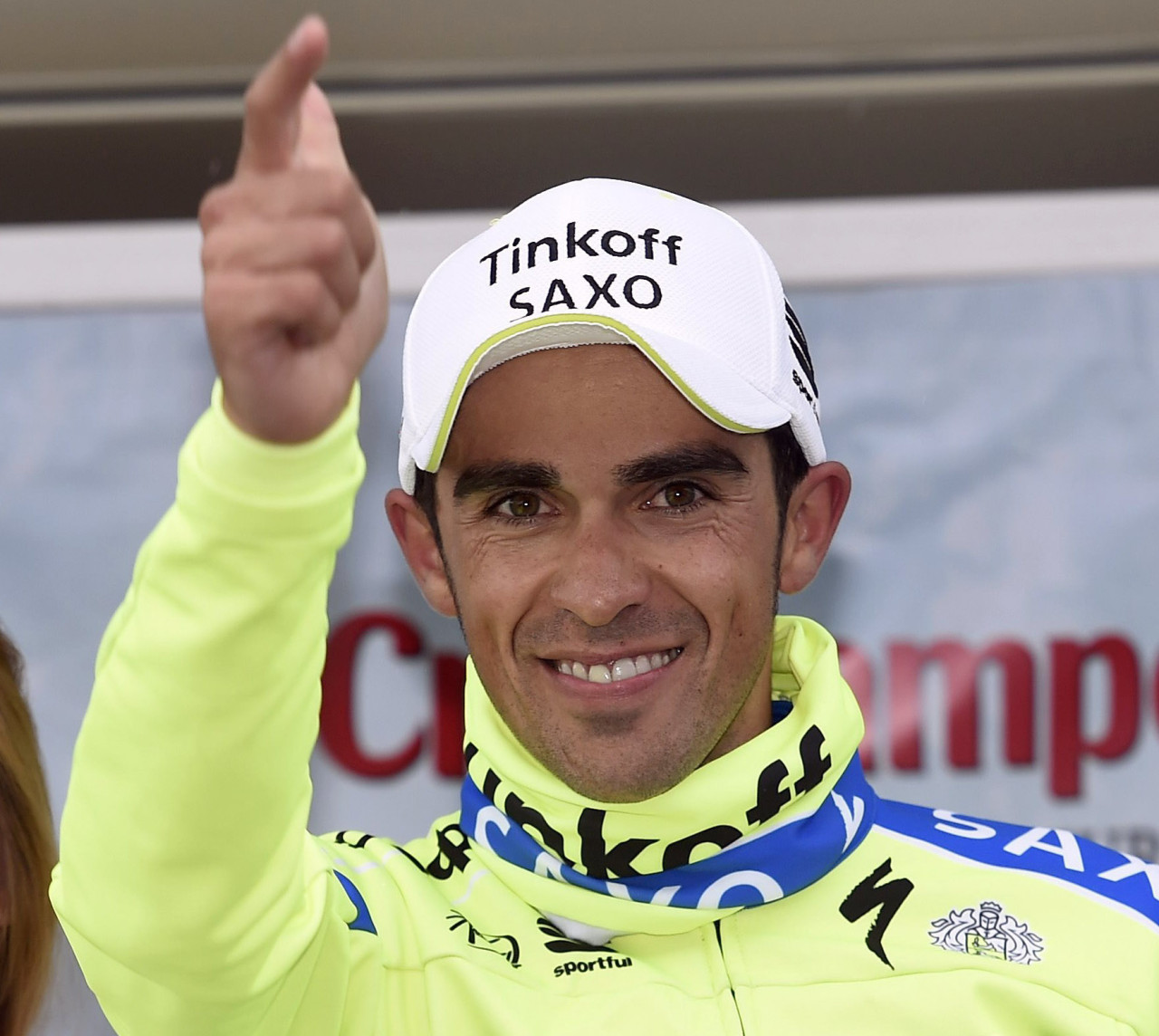 Hats
Cycling Cap – 100% cotton for those traditionalists that love #CapsNotHats
Podium Hat – A Flexfit® baseball cap for those that earned their place on the three steps at the end of the race.
Neckwarmer – like WuTang said best 'protect ya neck' though I down they were thinking about riding bikes in cold weather at the time…
Headwarmer – A fleecy ThermoDryTex hat that's thin enough to sit inside a helmet and add some warmth in winter.
Warmers
NoRain Arm & Leg Warmer – NoRain is one of the fabrics we are most proud of, highly water resistant yet breathable and stretchy, perfect for the spring classics.
ThermoDryTex+ Arm, Knee & Leg Warmers – For dry cold days ThermoDryTex+ keeps the edge of the windchill.
Footwear
Lugano Gore-Tex® Bootie – named after one of Alberto Contador's favourite training grounds and built with full Gore-Tex® protection so he can keep climbing, even when there's snow on the mountains.
ProRace WS Bootie – A Windstopper® bootie that completely blocks out the wind, ideal for off season training or cold weather racing.
WetLite Bootie – Silicone coated lycra that prevents road spray turning your shoes into a swamp.
ProRace Toe Cover – A neoprene pouch that slips over your shoes to block the windchill and a handy place for us to store large Sportful logos…
Lycra Shoe Cover – made for aerodynamics, covering all the lumps and bumps that cycling shoes have with dials and straps, ideal for TT riding.
PolyPro Team Race Socks – A soft thin sock with some added padding in the sole to stop 'hot foot' when climbing.
SpeedSkin Silicone bootie (available Autumn 15) – our most aerodynamic bootie is also waterproof… a high length silicone coated ultra thin lycra bootie.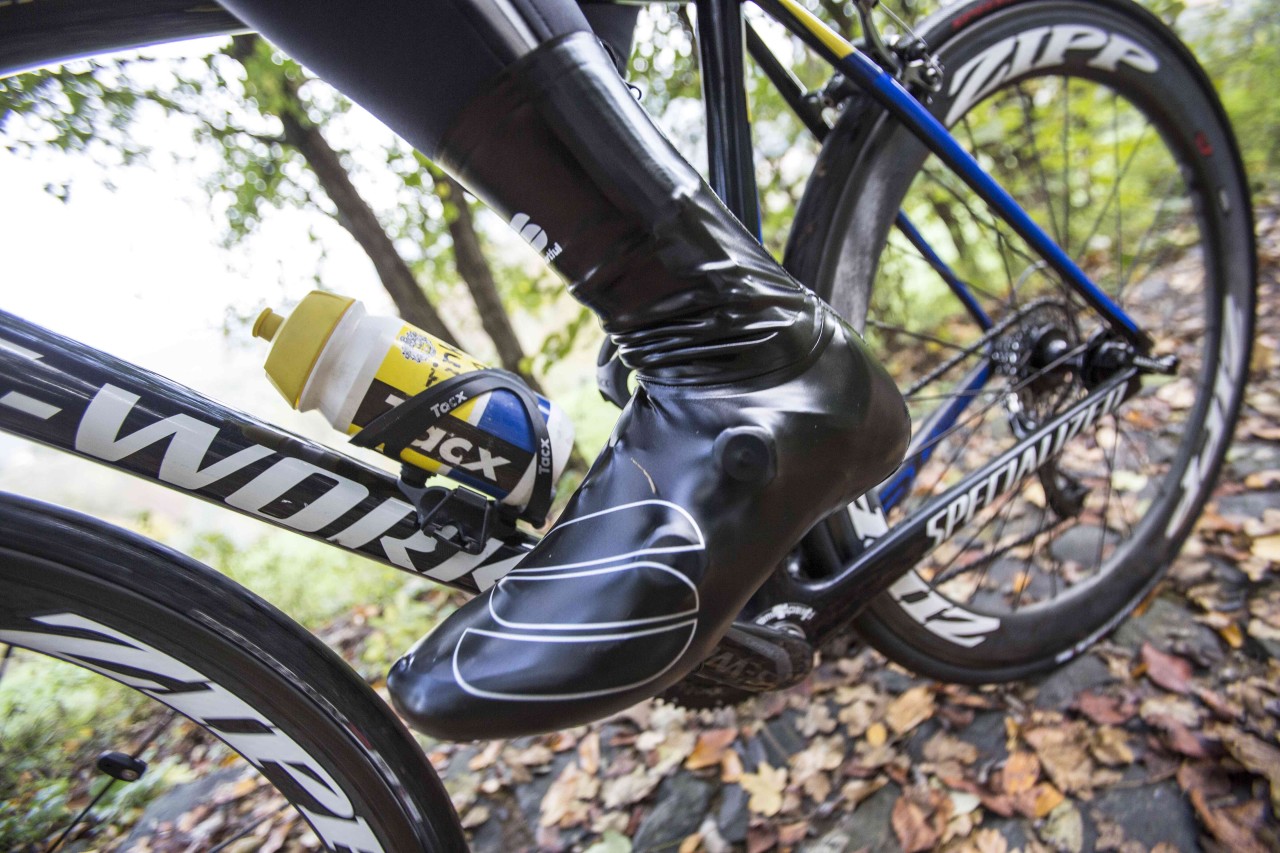 We also make a few bits of kit that are not currently available to the public, either in prototype phase or just not really necessary for anyone that isn't in a pro team!
Other
R&D SpeedSkin road suit – A marriage of our Bodyfit Pro bibshorts and our R&D SpeedSkin jersey – slightly more aerodynamic and lighter.
R&D Ultralight road suit – as above but with an R&D Ultralight – designed to reduce weight and layers for even better hot weather performance.
BodyFit Aero TT glove – a long wristed version of our BodyFit Pro glove to keep the air flowing along the arm.
BodyFit Track Shorts – made for guys like Michael Mørkøv that spend time on the track in winter, slightly re-engineered to sit better in track bike position.
Belgian Booties – knitted oversocks with team logos for cold weather racing & training.
R&D Bottle vest – you've probably seen this by now, it's designed to help the process of hydrating the team during races, it makes it faster, safer and easier…some times its the small things that make the big differences.
Musettes – A little bit like the bottle vest the musette was designed to make the process of refuelling faster, safer and easier, only someone thought of it way earlier!
Leader transfers – if you are lucky enough to be leading a classification in a stage race you generally have to wear a leaders jersey which isn't provided by your sponsor, to make sure sponsors are still given their visibility a white rectangular panel is left front and rear for a transfer to be printed with all the logos and team name… yep, we make those too.
Polo Shirts, Hoodies and T-Shirts – We make up all those nice team coloured polos, hoodies and Ts for the team, occasionally the team sells a few of them on their store too, keep an eye out, they are pretty rare!
Custom products – Occasionally there will be a challenge that needs a little extra to get the best result, an important TT, a mountain stage or even just a rider that likes his shorts a little longer…
Prototypes –  We give the team various prototype products to test & get feedback since they spend more time on the road in tough conditions than anyone else! There's one in the video… see if you can spot it 😉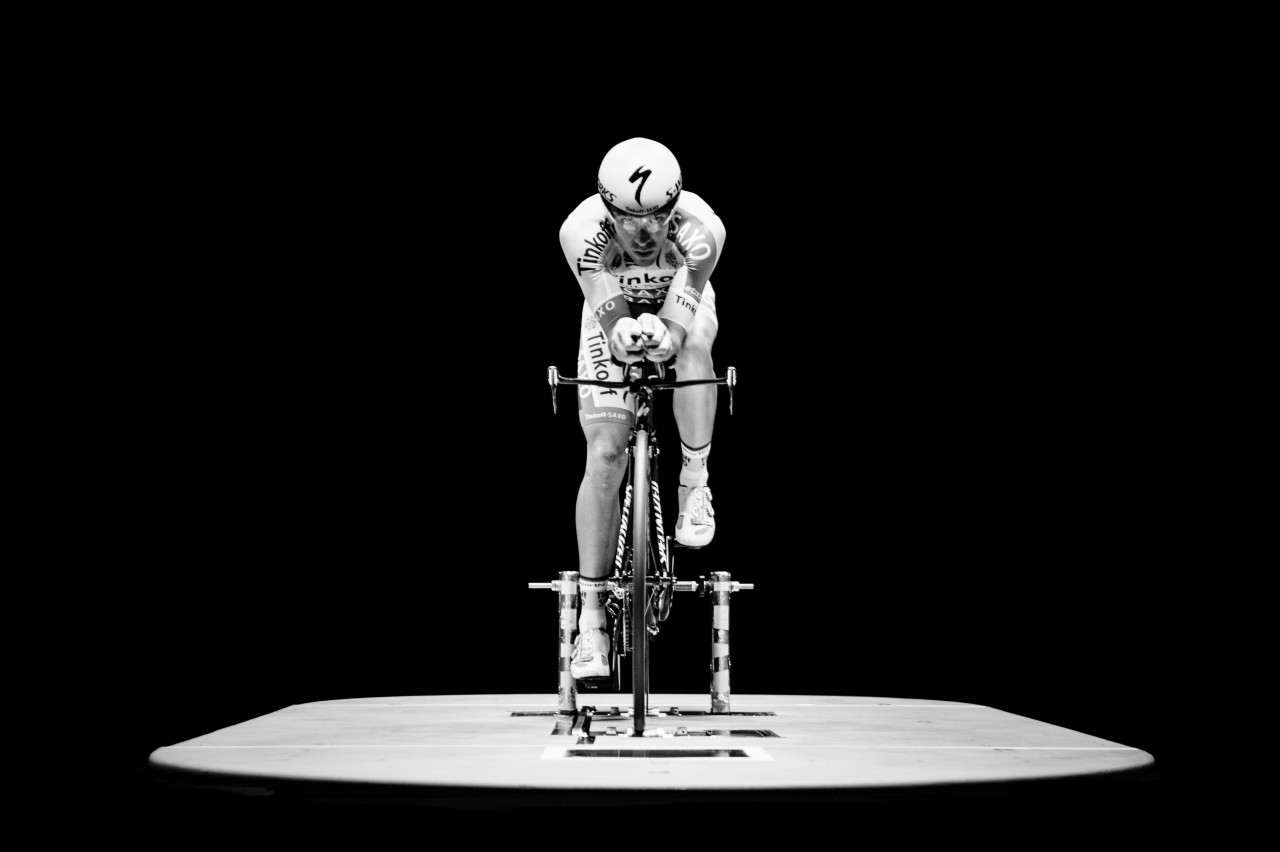 KARPOS
What you may not have realised is that we also provide the whole team (not just the riders) with their KARPOS clothing for use off the bike, our range of technical outdoors wear is well suited for the tough life on the road of the mechanics, management & support staff and perfectly comfortable whether it's used for the hours sat in the departure lounge or scaling Mount Kilimanjaro!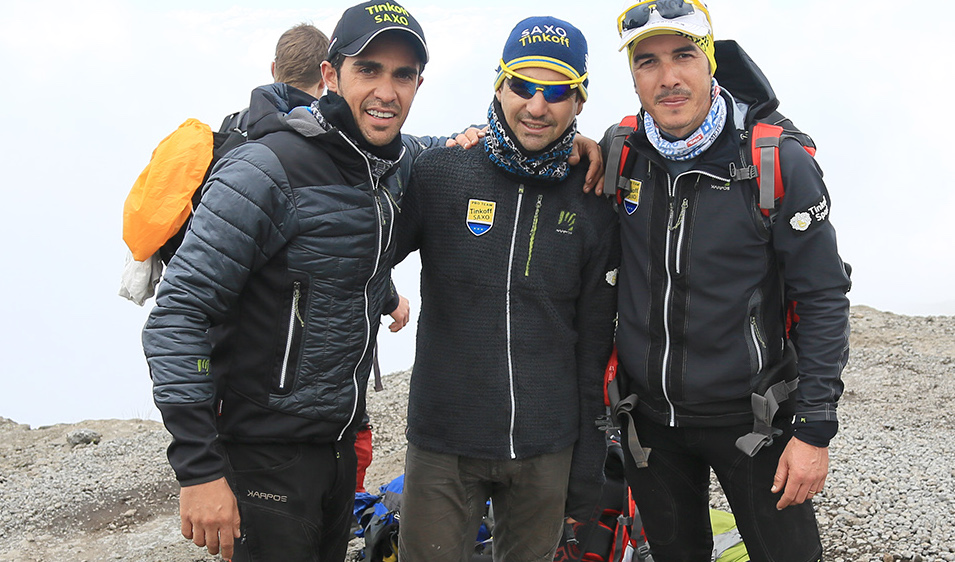 Here's a list of KARPOS products used by the team –
Jackets
Loft – A lightweight PrimaLoft® jacket which is really warm and breathable, it's the jacket you see most of the team wearing when they aren't on bikes.
Cevedale –  Wind and water resistant shell with reinforced panels & detachable sleeves, great for mechanics working on bikes in car parks or standing for hours with musettes!
Artika – An extremely warm goose down jacket mostly used in very cold conditions, perfect for early mornings on Kilimanjaro!
Sass Maor – A synthetic down jacket thats extremely light & packable, good for keeping warm before a race.ò
Fleeces & tops
Antelao – A fluffy Polartec® fleece that is perfect for downtime, airport lounges and press conferences, warm but breathable & very, very comfy.
Cristallo 2 – A Thermo fleece with a half zip, perfect as a second layer when it's pretty cold.
Pants
Cimon 2 – A lightweight shell pant with reinforced panels for added durability, wind and water resistant.
Express 100 – A winter pant that has a warm fleecy lining, great for the spring classics and winter training camps.
Remote – A convertible summer pant  that can be worn as shorts when it gets warmer.
Vernale – Another lined winter pant, reflective strips also add safety for staff getting in and out of cars on dark winter days.
So to sum it all up, each of the riders on Tinkoff Saxo get over 50 different products from Sportful, with more than 10 pieces of items like socks and race jerseys, in all around 250 bits of clothing a season… so next time your partner complains about 'all your cycling kit' maybe show them this list…
photos – BrakeThrough Media, Pierre Orphanidis, Poci's, BettiniPhoto, Ashley Gruber
video – Global Cycling Network