Assisi -May 14th, 1995
The 2nd stage of the 78th Giro d'Italia was a short 19km individual time trial, the Maglia Rosa going into the stage, Mario Cipollini, well known for his talents as a powerful sprinter (less so for his ability to finish grand tours) was unlikely to hold on to the lead. All eyes were on 3x Vuelta champion Tony Rominger of Mapei-GB-Latexco who was expected to use the TT to make his mark on the GC. TT was Rominger's speciality, while other riders of the era saw it as an annoyance that had to be suffered during a grand tour.
Rominger had set about making sure it was his advantage over the peloton, he focused on bike position, aerodynamics, gearing and clothing, later in the race he would use one of the worlds first carbon TT bikes (delivered from Colnago the day before stage 10) and aero helmets to further increase his TT dominance.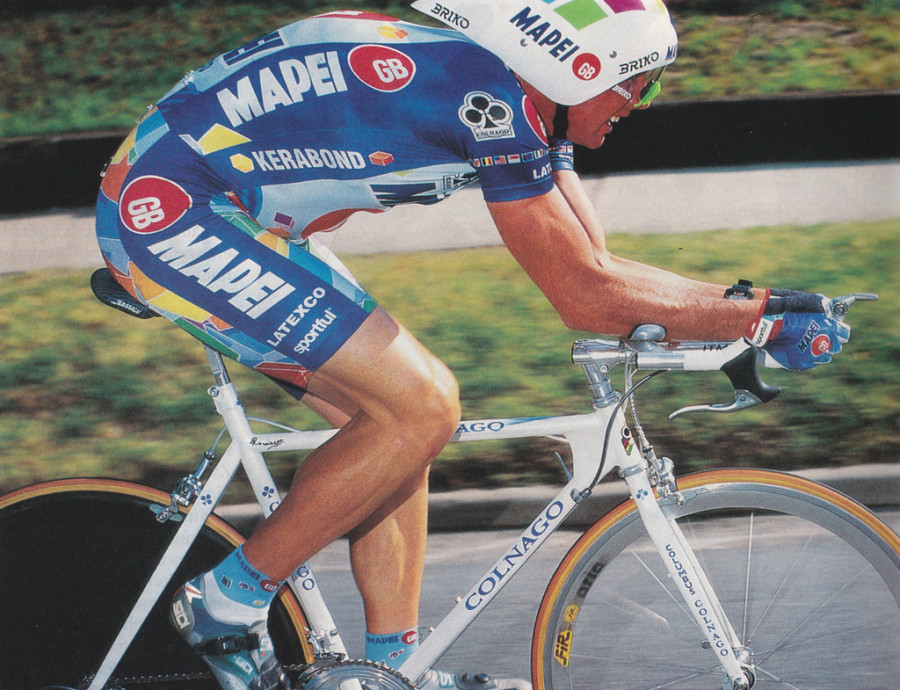 Taking to the start ramp amongst a sea of umbrellas, the tight course was treacherously slick with the rain that had been falling all day. The fastest time so far had been set by Rolf Sørensen, with most of the GC hopefuls riding carefully to avoid ending their tour prematurely. Not so for Rominger who attacked the course like he was on rails, pedalling hard through corners, the rain running in a constant stream from his hair, over his skinsuit and spraying out of his shoes. As he charged into the finishing straight across the flooded piazza he saw on the screen that he had won by 45 seconds and gained over 1 minute on his GC rivals.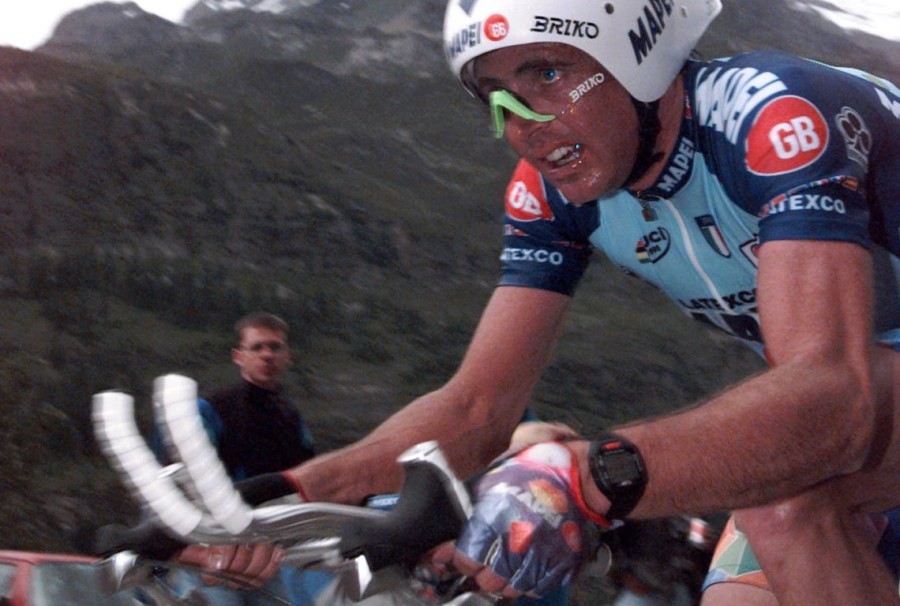 Rominger would keep the Maglia Rosa for the duration of the Giro, taking 2 other TT victories (each adding a minute to his lead), a mountain stage win (adding another minute to his lead!) and the points jersey along the way. In a Giro that was reputed to be one of the toughest in decades – he had won by over 4 minutes.
Though it was a convincing win for Rominger in a race that Mapei had cleverly controlled, it was not a Giro without drama – Rominger had to constantly follow attacks from the Gewiss team's Ugrumov and Berzin, his closest threats on the GC – but ultimately their infighting over the team leadership role would prevent them from taking the race win.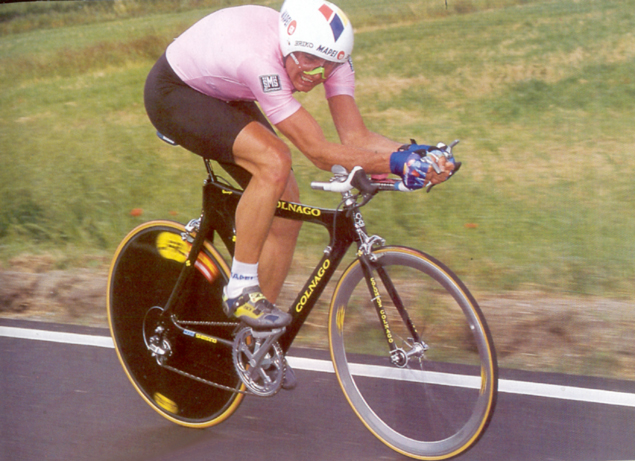 The ultimate insult to their team came on stage 17 a mountain TT which started from the Gewiss headquarters in Cenate, once again Rominger absolutely destroyed his Gewiss challengers adding 1min 39sec to Berzin's and 2min 3sec Ugrumov's deficits. Avalanched snow on stage 19 halted the race lower down the ascent of Agnello, a decision made late into the race and a lucky one for Rominger whose health had taken a turn for the worse and looked like anyone would have been able to have take the time they needed from him that day.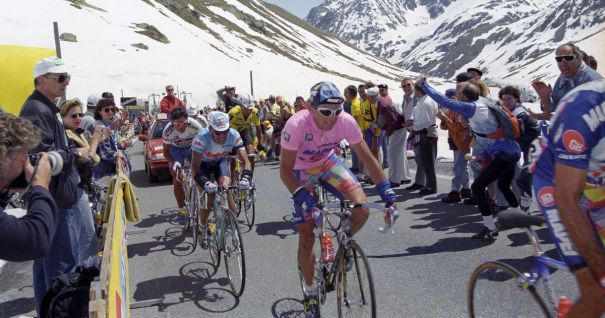 The next day, on a mountain stage to Montgenevre, Ugrumov and Berzin escaped in a break but were so focused on trying to drop each other that they failed to notice that Rominger's Mapei team had caught them on the line.
The fight for 2nd continued on but Rominger's win was cemented and all he had to do was make it safely to Milan.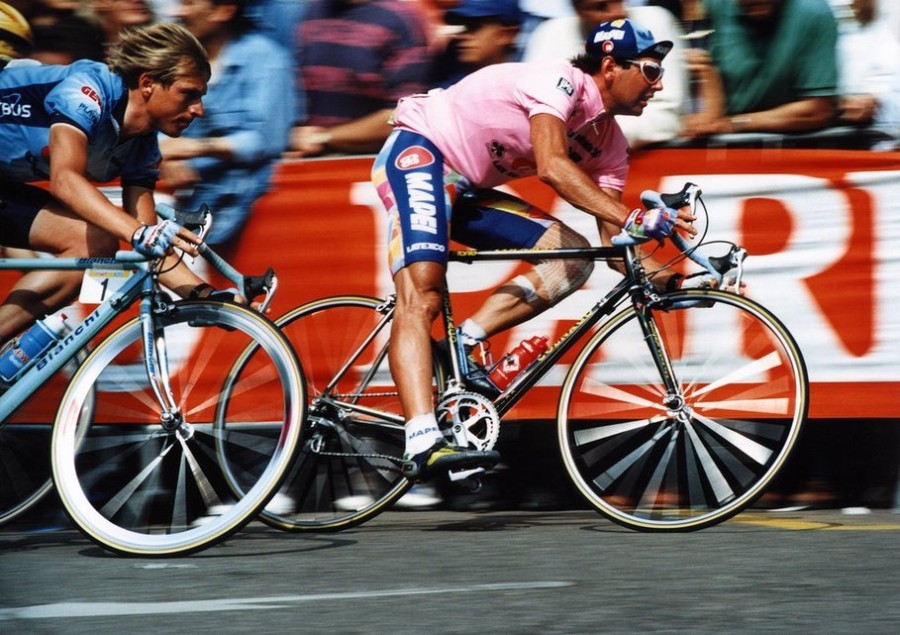 It was Mapei and Sportful's first Giro win, something extremely special for an Italian team and an Italian sponsor and we still have Rominger's Maglia Rosa proudly displayed at Sportful HQ.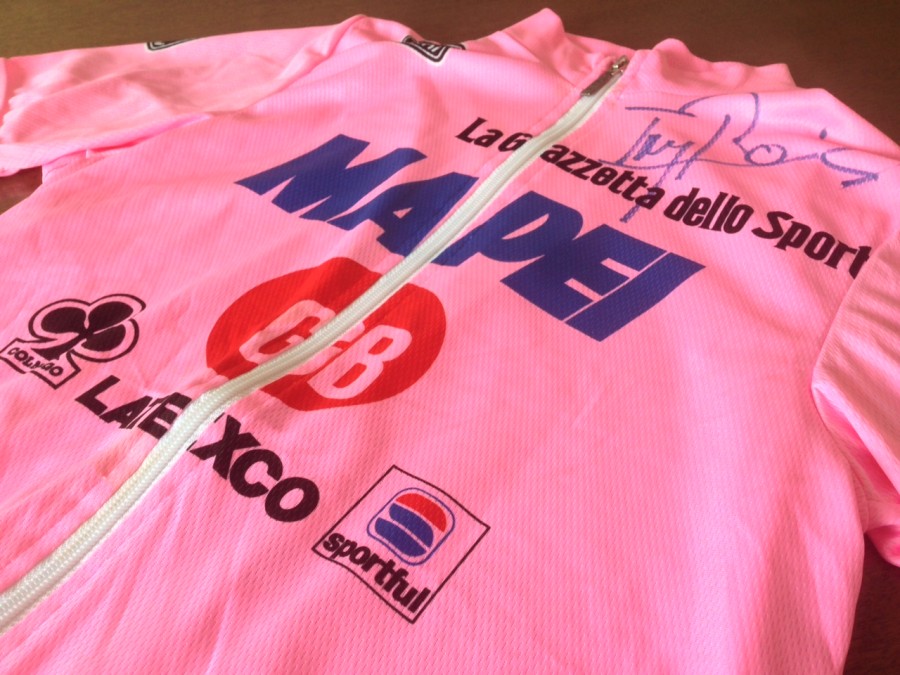 Yesterday Alberto Contador took the Maglia Rosa at the Giro d'Italia for Tinkoff Saxo – in his Grand Tour history he has never relinquished a leader's jersey once he's gained it…let's hope we will have another one to add to the wall by the end of the month.