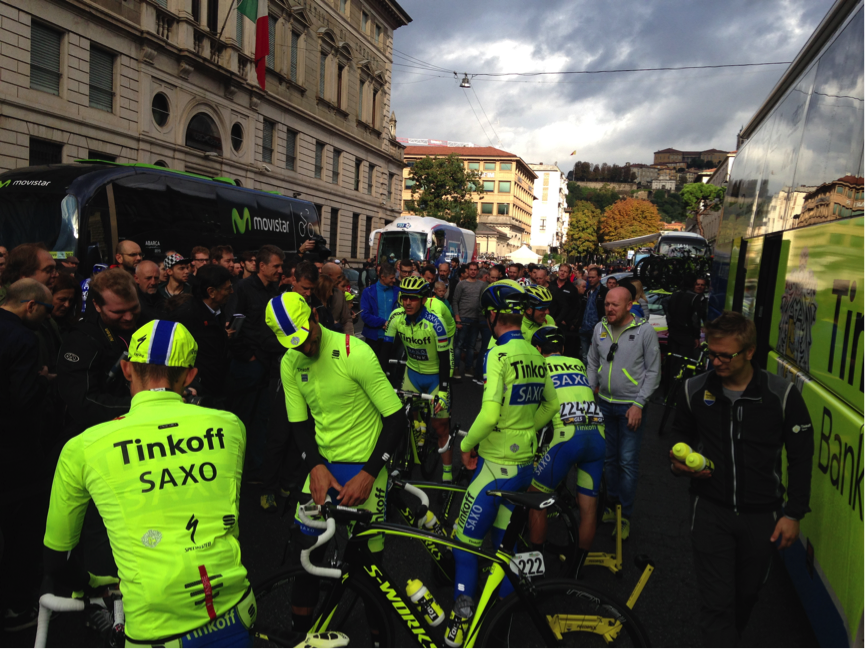 Pre race nerves are nothing new, any competitor, will be accustomed to that unsettled feeling in their stomach, a sleepless night, followed by a morning of nervous energy… A forecast that showed unsettled weather for the final classic of the season; Il Lombardia only accentuated this feeling.
However as someone who was simply spectating, these symptoms were a little out of place…
We (Sportful employees & guests from the cycling press) were in Bergamo; we'd had dinner with Tinkoff-Saxo the night before and were now hanging out, around the team bus. We'd already been caught in a couple of heavy down pours walking to the start, the dark skies above suggested further rain was to be expected but any weather predictions were skewed by bright rays of sunshine…
Mild temperatures and aggressive racing ahead led many of the riders to choose the Fiandre Light No-Rain Short-Sleeve – a piece that would ward off showers whilst offering excellent breathability, packing down into a jersey pocket, avoiding the wasted energy of going back to the team car.
The riders soon assembled on the start line; we would see them roll out in a tourist like manner, the next time we saw them (with 100km's to go) the peloton would be fully lined out, riders sprinting to hold the wheel in front, the reality of pro bike racing….
We would watch the race for the 3rd and final time on the Muro di Sormano, a viciously difficult climb that would test all who raced up it before running into the bar to catch the finale on TV… An exciting finish and a deserved win by Nibali would round out the race.
Tinkoff-Saxo had shown well during the race but as any bike racer knows sometimes it's just not meant to be…
Come the next morning, Daniel Loots – Sportful's Brand Communication Manager had plotted a "mini" Il Lombardia route, giving all in attendance the chance to ride the same roads the pro's had ridden the day before, in the same Sportful apparel…
We were welcomed by cool but sunny conditions, like the pro's we all favored the Fiandre Light No-Rain Short-Sleeve. The piece is as adept in dry conditions as it is drizzly wet weather and perfect for the ever-warming temperature.
The route would track the shores of Lake Como before taking in the climb of the Madonna del Ghisallo and the infamous Muro di Sormano. We rolled out knowing a tough few hours lay ahead…
Any pre-ride apprehension was to put to rest, the pro's were on an easy day, a steady pace was set, that enabled us to chat and enjoy the scenery.
We can all attest that the Muro di Sormano is one tough climb! The steep pitched gradients never relented, the summit gave the opportunity to take in the stunning views and look at something other than tarmac…
Rolling back to the hotel gave further opportunity to chat with the pro's and soak up the sunshine and the experience, it's not every day you get to ride with Kreuziger, Basso and Paulinho…
A huge thanks to all who attended
Words: Paul Whitfield
Photos: Augustus Farmer