Next time you find yourself riding the Tour de France and starting in Yorkshire, you'll need to take extra care in packing your rain bag.
Or in the case of the Tour de France, you actually put a bag in each of the two team cars. SciCon makes this easy for the Tinkoff Saxo riders by putting the number 1 or 2 on each bag.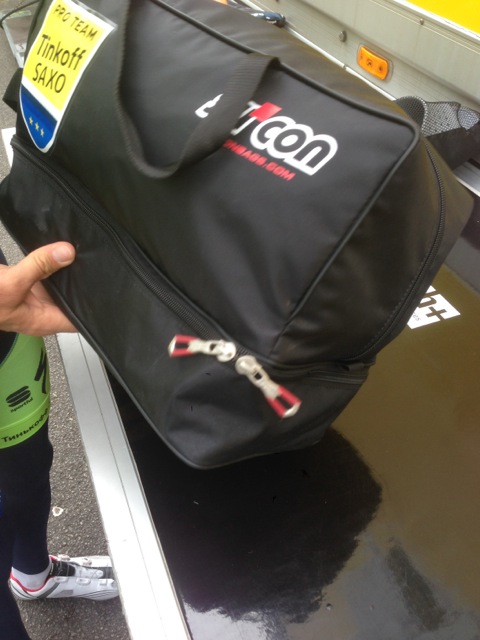 Tinkoff-Saxo rider Matteo Tosatto is starting his 29th Grand Tour(!).
He spent some time with us to show what he puts in his bag based on his 16 years of experience.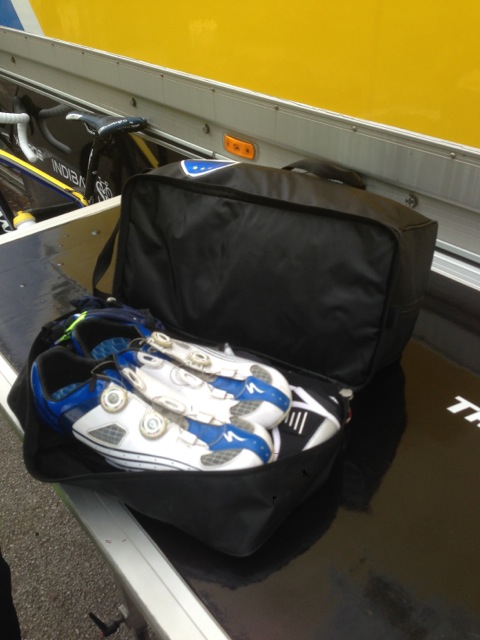 The bottom part of the bag has a separate zipper for the spare pair of shoes. Matteo says "the spare shoes are vital because anything can happen, and you could be out of the race if a cleat slips or breaks". Matteo uses the shoe compartment to store his booties so that the mechanic can easily find them. He has a Sportful bootie for every condition:
– Lugano booties in GoreTex® for rain
– WetLite booties for general conditions: wind proof, waterproof, light, aero
– Lycra booties for cool conditions with no rain
– Neoprene booties, Matteo says are "in case of snow"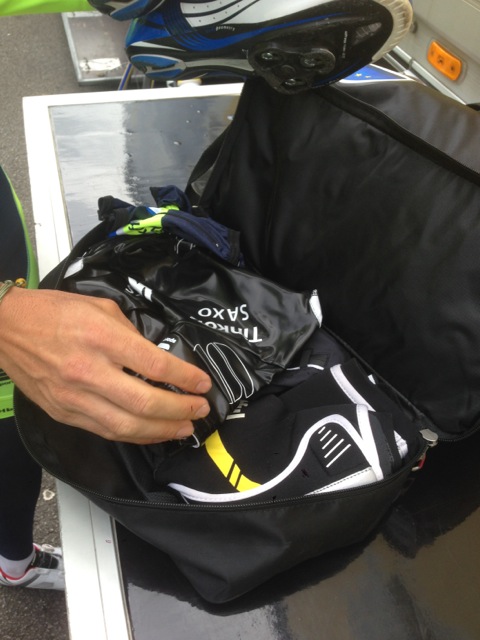 The upper part of the bag contains everything else. First out is the Gore Rain Race jersey, a team-only piece that Matteo uses often. He then pulls out the Rain Vest, a team-only piece that is a very lightweight wind and waterproof vest for rain in moderate cold.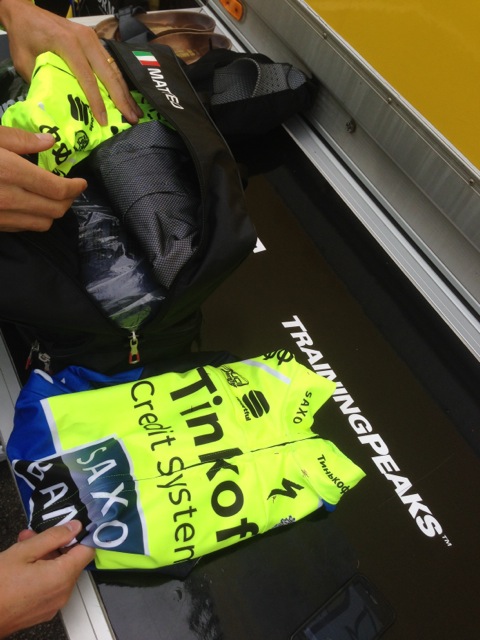 Then we see two white stuff sacks that contain the Hot Pack 5 Jacket and Hot Pack 5 Vest. "These are perfect for long descents where you need to keep the wind off, then they pack up small in the pocket so you don't have to find the team car."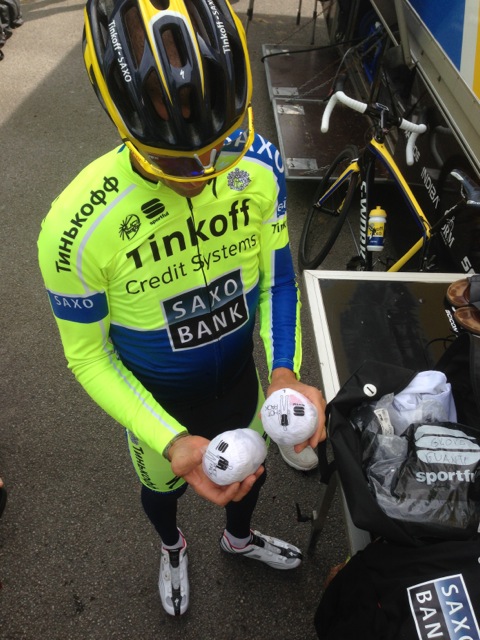 Next out is the GoreTex® Survival Jacket, made for survival in the worst conditions where your main goal is to stay warm and healthy so you can compete in tomorrow's stage. Matteo says that it's the best rain jacket for training and extreme cold but he probably wont' use it at the Tour because it won't be that cold.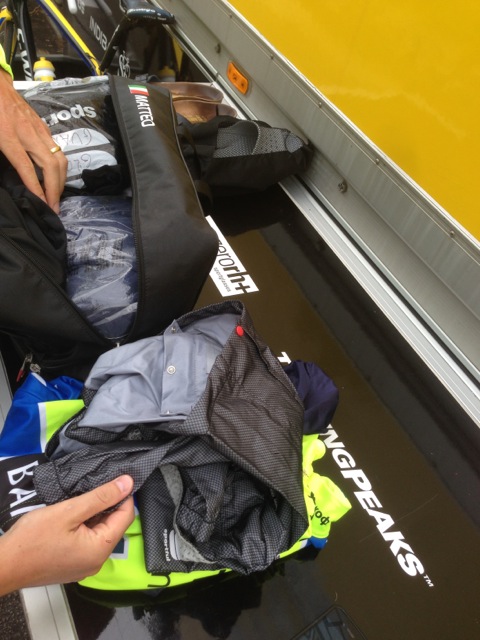 Matteo does an "oooohhhh" as he pulls out the new Fiandre NoRain Light Jacket which he says is his new favourite because it's light, water resistant, highly breathable, and very aero, plus the back pockets make it very convenient. Team Tinkoff Saxo is testing this jacket that will be available at Sportful dealers in September. Emphasising each syllable, Matteo says "è stu-pen-do", it's stupendous.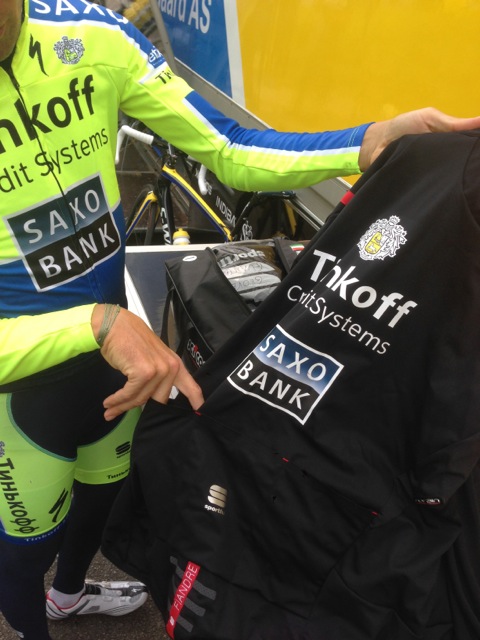 Then he pulls out a plastic bag from which he has 2 pairs each of arm, leg and knee warmers. Plus the set in the other car and you realize how important these are for a rider at the Tour.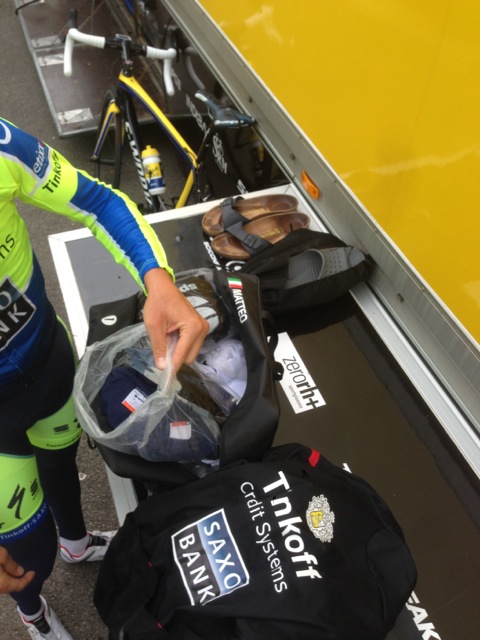 Next out is a plastic bag with 4 different pairs of gloves with a similar approach to the booties: something for every condition.
– Neoprene gloves for wet
– Gore® Windstopper® gloves for cold
– Impronta woven Coolmax® gloves for cool and dry
– Lightweight Thermodrytex gloves for cool and dry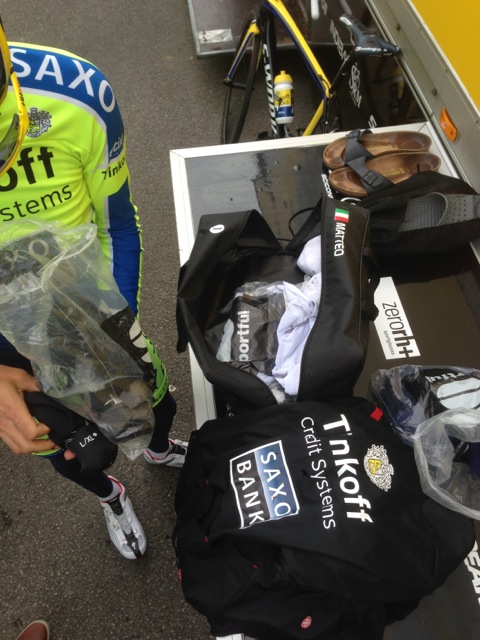 Another plastic bag with 2 ThermoDynamic base layers. Matteo says that on a hot day sometimes he'll change the base layer mid stage to keep dry and comfortable. In that bag is also a neck warmer for extreme cold "I'll only use it maybe one time in the entire year, but it's nice to know it's there if I need it."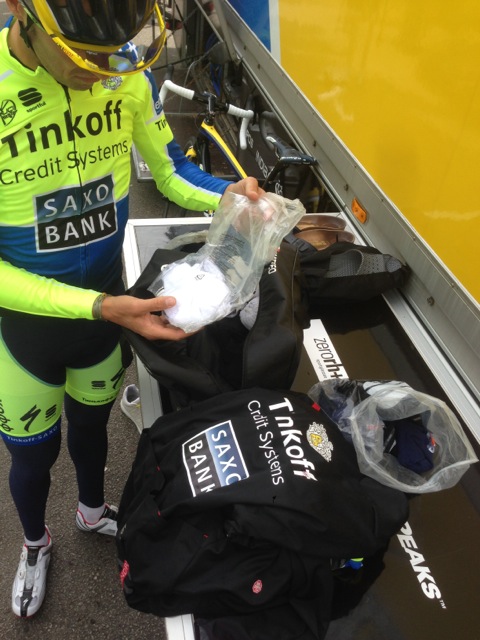 Matteo says "I put in two of everything. Not because I need it, but because I know that some of the other guys don't pack their rain bags well so often I'll give one of my jackets to a teammate". Just another trick of the trade learned in 16 years as the consummate pro.