2014 has been a great year for Sportful, whether it's been seeing our kit on the podium at all three grand tours, hosting some exciting events or finding an extra 20w in the wind tunnel!
As the calendar counts down to the start of 2015 we thought we'd share our top 10 #SportfulMoments from 2014…
P.S.Check out the bottom of the page for our #SportfulMoments competition…
1.
Tinkoff Saxo's Tour de France plan B
Whilst every other team in the peloton lost their heads after losing their star riders in the first two weeks, Tinkoff Saxo picked up the pieces and had a remarkable Tour de France with 3 stage wins for Michael Rogers and Rafal Majka and of course Majka taking home the King of the Mountains prize. To top it off all the stage wins were achieved in Sportful's latest R&D Ultralight and SpeedSkin jerseys, which were designed to give the team an advantage in the conditions encountered.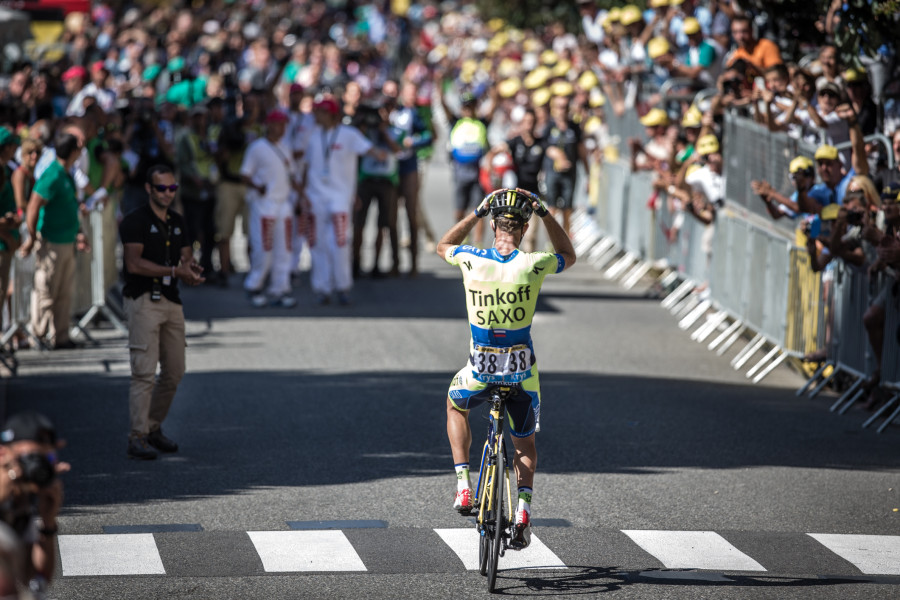 photo by BrakeThrough Media: Michael Rodgers wins stage 16, Tour de France 2014
2.
The return of Contador 
The collective groan at Sportful HQ when Alberto Contador hit the ground in stage 10 of the Tour de France could probably have been heard in Paris. An unfortunately timed reach for some food had cost him the race when he was almost certainly in his best form ever. The news of a broken leg must have been devastating for the 32 year old Spaniard who no doubt would have been contemplating a shot at the Vuelta a Espana, but as all Contador fans will testify, he never gives up! Despite going back to training as soon as he could and waiting until the last minute for his decision to enter, it seemed unlikely that he would be able to give his best performance at the Vuelta, he used the first week as a chance to build up his strength and on stage 10's individual TT he put in a stunning ride to take the leaders jersey. Not one to sit at watch his rivals try and take time he then won two mountain stages to cement his 3rd GC victory at the Vuelta and show the world what they missed in this year's tour!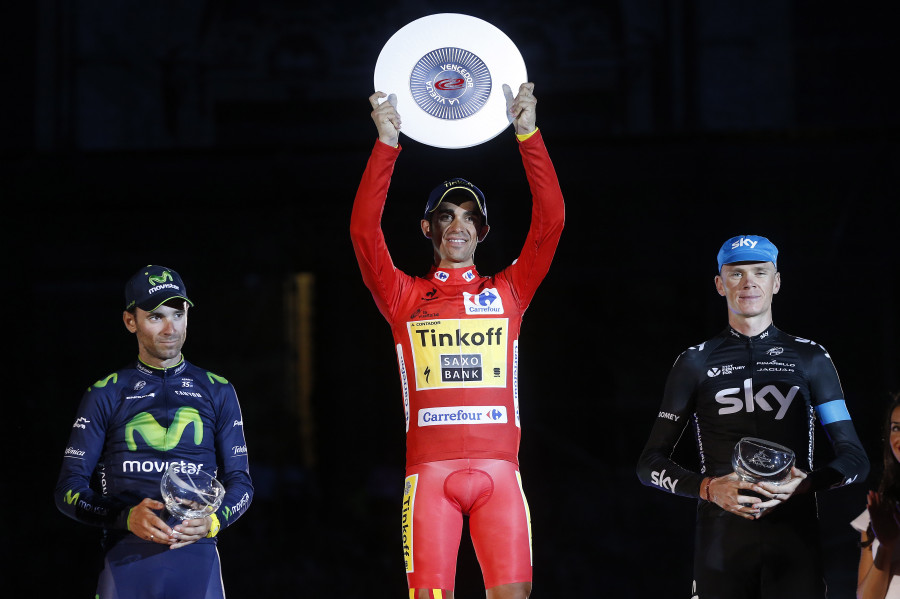 photo by Bettini: Alberto Contador wins the 2014 Vuelta a Espana
3.
Bronze at Sochi 2014
An amazing result for the Italian Olympic Biathlon team of Hofer, Oberhofer, Windisch and Wierer in the first ever Olympic Mixed Relay, the race was close with less than a minute between 1st & 3rd and Italy were 2nd in the shooting but it came down to the time and favourites Norway were just too strong. It was the first podium for the Italian team in any major mixed relay event and with their skill and strength it's unlikely to be their last!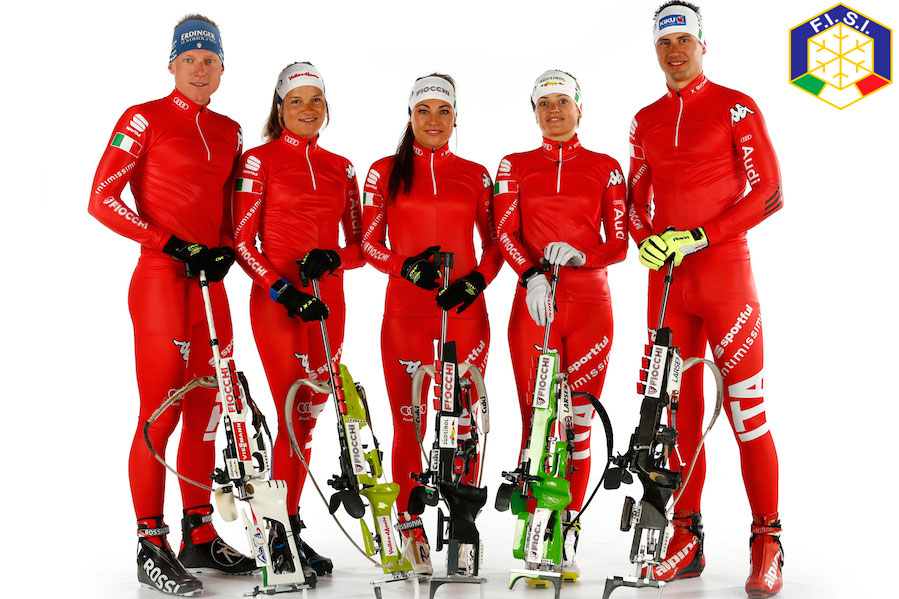 photo by PentaPhoto: Italian National Biathlon team 2014
4.
Fiandre Day
We named our Fiandre range after the Flanders region of Belgium because it reminds us of the changeable weather, tough conditions and hard athletes that are associated with the Vlaanderen so what better place to launch the clothing than Oudenaarde, the finish line of the Tour of Flanders with Nicki Sørensen and Tristan Hoffman of Tinkoff Saxo guiding us over the bergs and cobbles of the route. You can read more about it here – blog.sportful.com/FiandreDay

5.
Sportful Dolomiti Race – The Manghen is back! 
The 20th edition of the Granfondo Sportful or Sportful Dolomiti Race returned to it's roots and saw the route change back to include the mighty Passo Manghen, climb to Castel Tessino and of course the Croce d'Aune which has featured consistently through the years. Though we weren't blessed with the nicest weather on the day the atmosphere was electric and the front bunch led by winner Tommaso Elettrico put in amazing efforts up the climbs. With over 4,500 participants from more than 15 countries the race is fast becoming an international event. Make sure you sign up for the 2015 edition here – www.gfsportful.it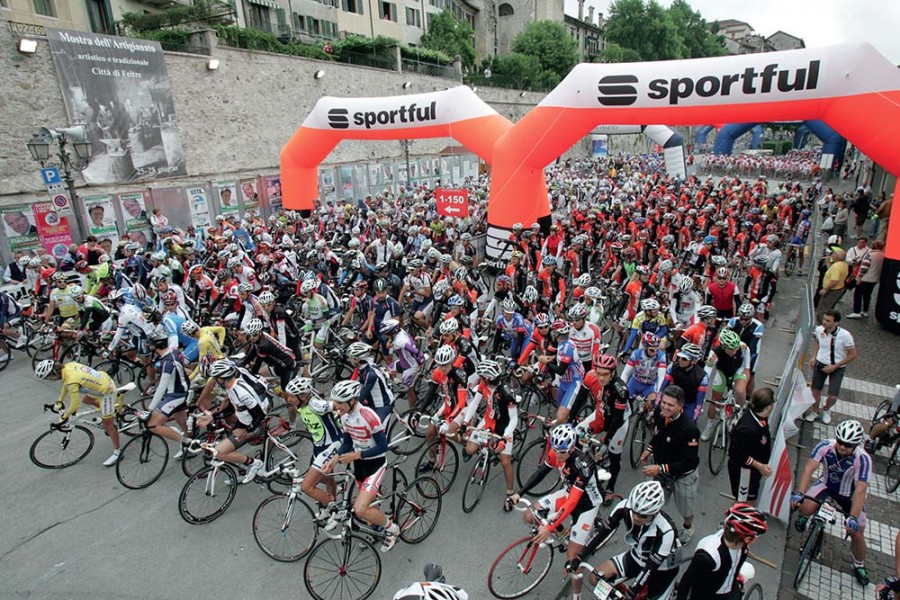 6.
10/10!
Full marks! This year has seen our products such as the Total Comfort Bibshort & Bibtight, Fiandre Light WS Jacket, BodyFit Pro Bibtight, Roubaix Thermal Bootie and WS Essential Glove get top marks in tests from many of the world's most popular cycling publications including Cycling Weekly, Cycling Plus, Cycling Active and more, and even when we didn't quite get full marks we often got awards like  'Best on Test'(WS Essential Gloves – Cycling Active, Total Comfort Bibshorts – Cycling Plus) 'KIT OF THE YEAR'(for our Total Comfort bibshorts on RCUK) and 'Highly Recommended' (from Cycling Weekly for our 2nd Skin Deluxe Baselayer, Roubaix Bootie, BodyFit & Total Comfort bibtights and our Fiandre Light WS Jacket). We strive to make excellent products for the sports we love doing, using feedback from the pro team, our customers and of course hours of testing and refinement here in the Dolomites so it makes us pretty happy when we see a good review!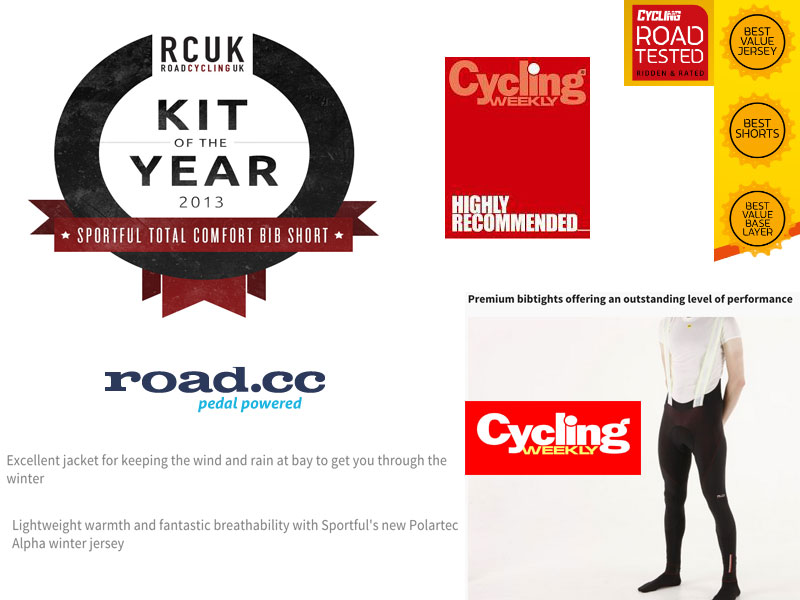 7.
Record snowfall in the Dolomites 
2014 saw the best snowfall in the Dolomites for over a decade, which meant the cross country trails were open from the end of November right through until the end of April, what's more for the most part we had great sunny and dry days to enjoy the stunning scenery and crisp snow. With such a long season to test our latest prototypes we think that the 2015 collection is one of our best yet, this was taken while we were out on the trails in it last winter.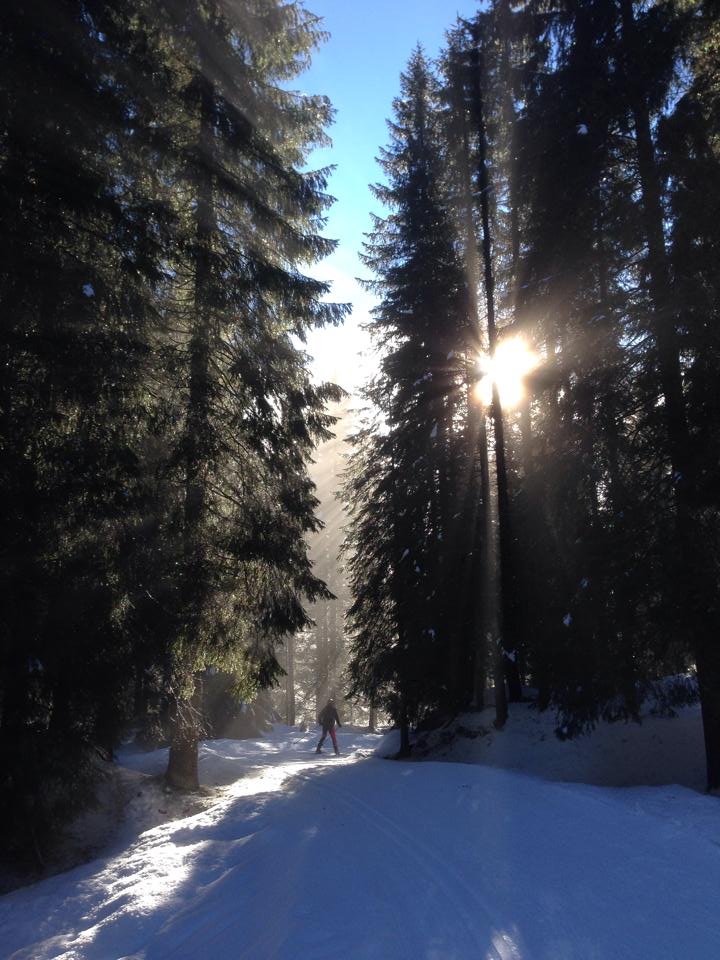 photo by Steve Smith, Sportful Brand Manager
8.
 The bottle vest
What happens when you make Tinkoff Saxo's jerseys better fitting and more aerodynamic? They go faster…but they aren't much use for the rather important function of ferrying bottles from the team car to your team, since there's no space to wedge them down your back.
The solution? The bottle vest. A lightweight mesh waistcoat with bottle shaped pockets and a small buckle that has not only solved the issue but greatly reduced the time it takes to do the job and is much safer than the old method. Sometimes you need to create new problems to make big improvements to 'the norm'!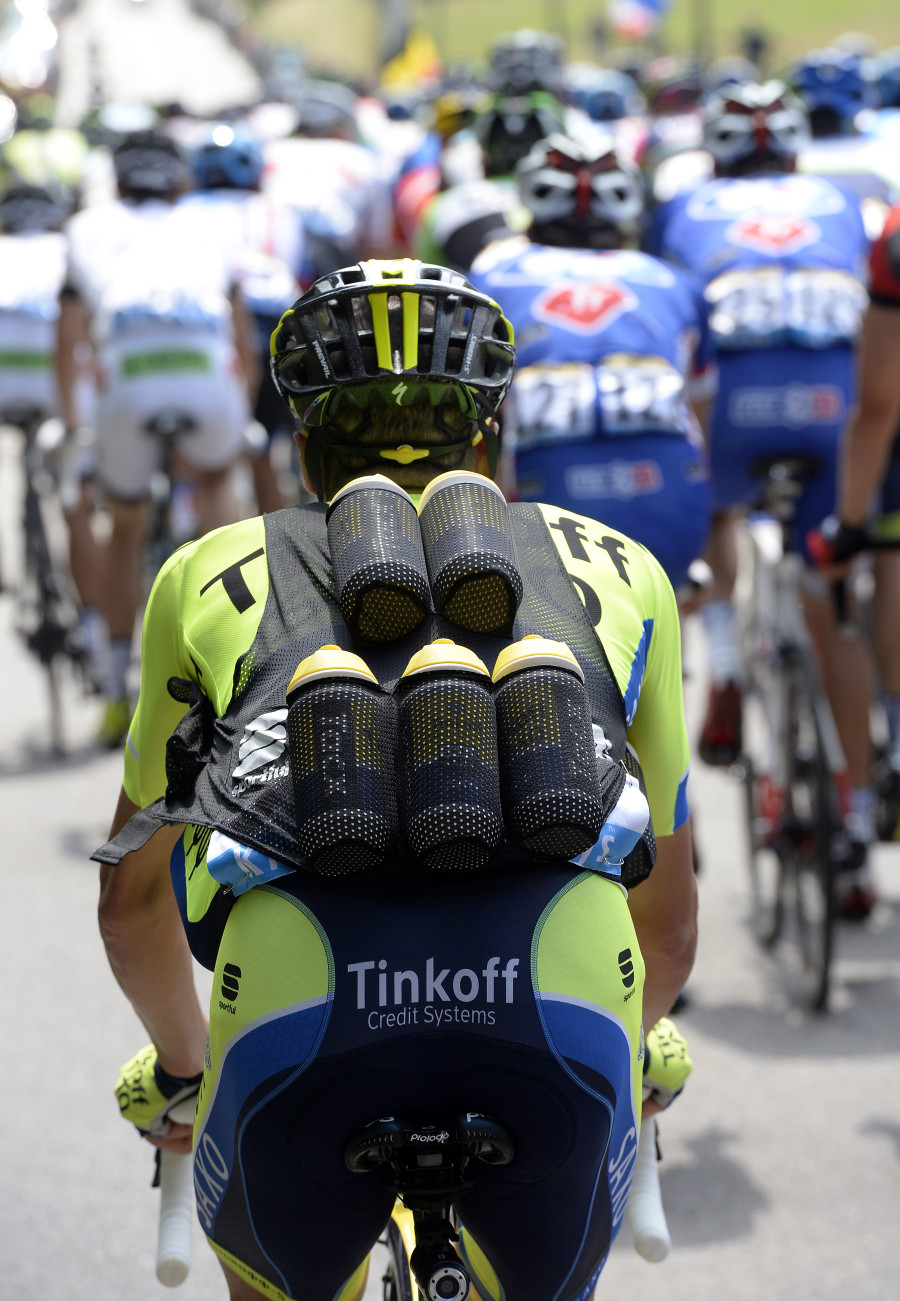 9.
Tinkoff Saxo takes on Kilimanjaro 
It's hard to get a professional cyclist to walk to the shops, let alone scale one of the worlds highest mountains! Tinkoff Saxo's founder and manager Bjarne Riis is famed for his unusual off season training camps but this was next level. Though Kilimanjaro isn't the most technical of mountains to climb, the combination of altitude and some of the worst weather seen in the area for a decade made it a true test of the team's mettle. Of the 72 athletes, mechanics, sport directors and other staff that set off, all but 21 managed to make it to the summit. We're proud that the team's combination of our Karpos outdoors clothing and a few bits of our race kit (including the Fiandre Light WS Jacket) helped them keep going in some wild weather! Find out more about our Karpos range at sportful.com/karpos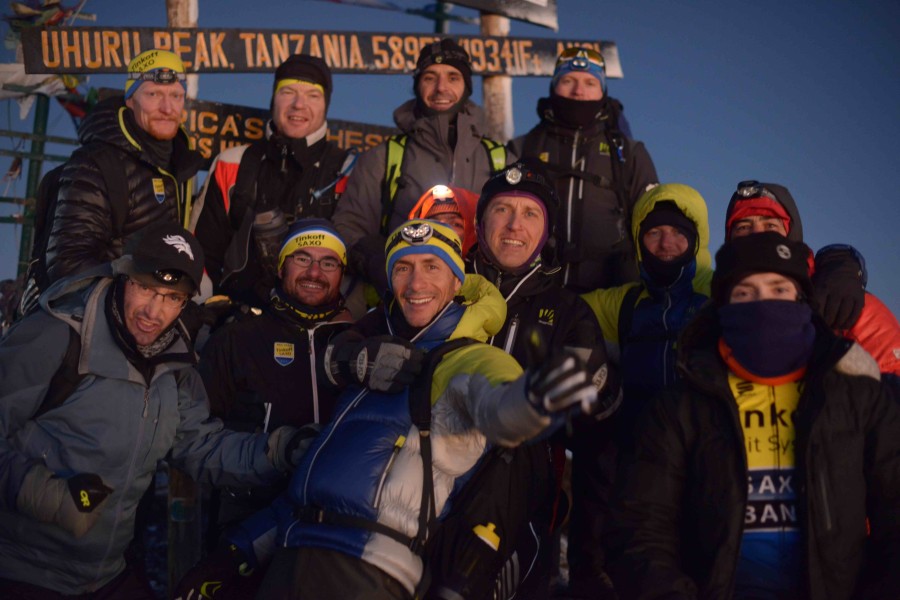 10.
Seeing Sportful stuff being used by you – all over the world.
One of our favourite things is seeing you guys out having fun in our kit! Whether it's pictures of you riding one of the great sportives or granfondos, the regular commute or the Weekend club run with friends, it makes us smile to see our clothing help you get out and ride!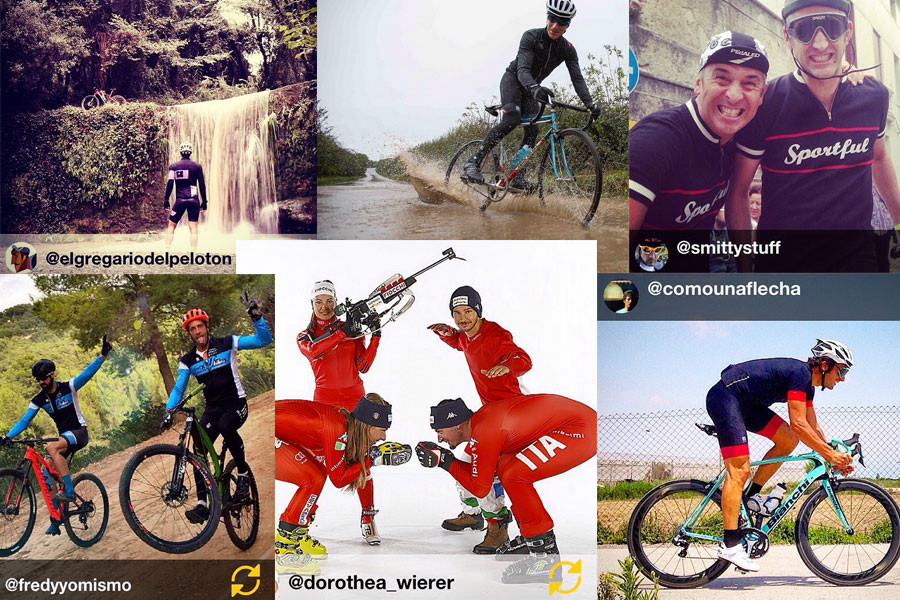 —————————————————————————————————————————————————–
Competition: WIN a Sportful kit by tagging us in your #SportfulMoments
Tag us in one of your favourite #SportfulMoments on Twitter, Instagram or Facebook and you could WIN a set of Sportful kit (XC or Cycling) – it could be a moment from Tinkoff Saxo, your finish line photo from a granfondo or even  just a great day riding with your buddies!
Entries close 07/01/15
Winner will be chosen from entries tagged with #SportfulMoments and contacted to arrange prize delivery.
Prize will be 1 jacket & 1 pair of tights from Sportful Ski or Cycling range, subject to availability of stock/sizes.
No cash or alternative prize will be offered.