Damiano Lenzi con la vittoria al Trofeo Mezzalama insieme a Michele Boscacci e Matteo Eydallin conquista la Coppa del Mondo ISMF Overall.
Mentre Axelle Mollaret vince fra le donne con Emelie Forsberg il prestigioso Trofeo Mezzalama.
Damiano Lenzi, with his victory in the Trofeo Mezzalama together with Michele Boscacci and Matteo Eydallin, wins the World Cup ISMF Overall.
In the women's event, Axelle Mollaret wins the prestigious Trofeo Mezzalama with Emelie Forsberg.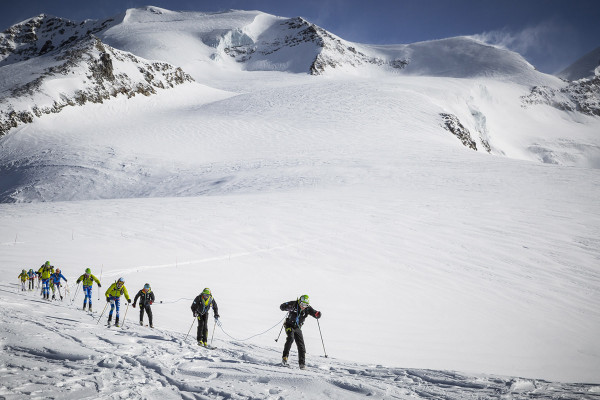 La XX edizione del Trofeo Mezzalama ha chiuso la stagione agonistica dello scialpinismo. La "maratona dei ghiacciai" era valida come prova della Grande Course e assegnava gli ultimi punti per l'assegnazione della Coppa del Mondo ISMF Overall. La classifica generale che tiene conto di tutte le gare di Coppa del Mondo e della Grande Course. Le prove della Grande Course inoltre assegnavano i punti per la Coppa di specialità Long Distance.
The XX edition of the Trofeo Mezzalama brings the ski mountaineering race season to a close. The "glacier marathon" was part of the Grande Course circuit and represented the last points on offer for the World Cup ISMF Overall. The general classification takes into account all the World Cup and Grande Course races. The Grande Course events also offer points for the World Cup Long Distance specialty.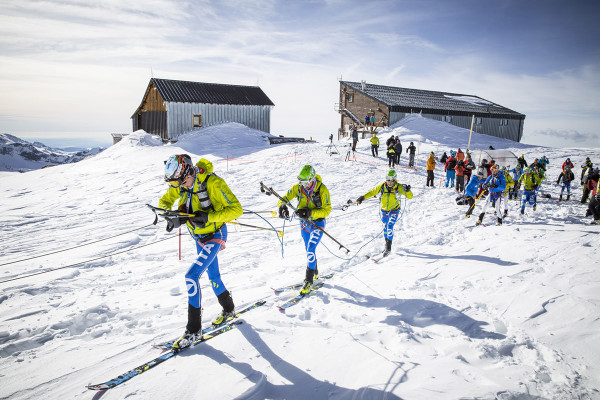 La squadra azzurra ha dominato le gare della Grande Course e piazzando nella Coppa del Mondo generale quattro atleti nelle prime sei posizioni. Damiano Lenzi ha vinto con 1023 punti, davanti Robert Antonioli (956 punti), e a Matteo Eydallin (845 punti). In quarta posizione si classifica Michele Boscacci con 786 punti, in quinta posizione c'è il francese William Bon Mardion con 751 punti, il compagno di squadra di Bon Mardion, Xavier Gachet, altro atleta Karpos, è sesto con 716 punti.
Il Trofeo Mezzalama, mitica maratona di scialpinismo, (45 chilometri di sviluppo con salite per 3500 metri di dislivello), il 2 maggio si è corsa lungo un percorso capovolto, da Gressoney La Trinité a Breuil-Cervinia, al fine di inaugurare i festeggiamenti dei 150 anni della conquista del Cervino.
Le condizioni meteo l'hanno resa durissima nella prima fase per il vento micidiale che sferzava lo sperone del Naso del Lyskamm a 4100 m di quota.
The Italian team dominated the Grande Course events and placed four skiers in the top six positions of the World Cup Overall. Damiano Lenzi won with 1,023 points, ahead of Robert Antonioli (956 points) and Matteo Eydallin (845 points). Michele Boscacci, with 786 points, came in fourth. In fifth place was the French athlete William Bon Mardion with 751 points. Bon Mardion's teammate, Xavier Gachet, another Karpos athlete, was sixth with 716 points.
The Trofeo Mezzalama, the legendary ski mountaineering marathon (a distance of 45 kilometers, with 3,500 meters of elevation gain), took place on May 2 on an inverted route from Gressoney La Trinité to Breuil-Cervinia, to kick off the festivities celebrating the 150th anniversary of the conquest of the Matterhorn.
The weather conditions made the first phase extremely difficult, due to the brutal wind whipping the spur of the Naso del Lyskamm at an elevation of 4,100 meters.
La vittoria è stata strappata con tenacia dalla cordata favorita del Centro Sportivo Esercito di Courmayeur del valsusino Matteo Eydallin (terzo successo al Mezzalama!), con il giovane valtellinese Michele Boscacci e l'ossolano Damiano Lenzi. I vincitori hanno staccato le pattuglie compagne di fuga sulla salita del Castore, strappando cinque minuti di vantaggio che hanno mantenuto fino al traguardo. Combattutissimo il secondo posto ottenuto dal team Italia 2 di Robert Antonioli, Manfred Reichegger e Lorenzo Holzknecht superando nella lunga discesa finale la squadra del tedesco Anton Palzer, con lo svizzero Martin Anthamatten e il bergamasco Pietro Lanfranchi, terzi a 17''.
Victory was snatched by the favorite team from the Centro Sportivo Esercito di Courmayeur, made up of Matteo Eydallin from Val di Susa (his third Mezzalama victory!), the young Michele Boscacci from Valtellina and Damiano Lenzi from Val d'Ossola. The winners dropped their breakaway companions on the Castore climb, gaining a five-minute advantage, which they held to the finish line. The battle for second place was fierce, with the Italia 2 team of Robert Antonioli, Manfred Reichegger and Lorenzo Holzknecht able to pass the team of Anton Palzer of Germany, Martin Anthamatten of Switzerland and Pietro Lanfranchi from Bergamo on the long final descent to finish with a 17-second advantage.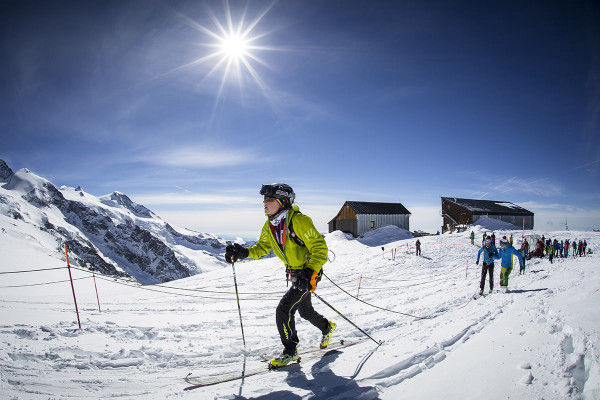 Per quanto riguarda la classifica al femminile strepitosa prestazione di Axelle Mollaret che con Emelie Fosberg entrambe portacolori Karpos e la svizzera Jennifer Fiechter hanno vinto il Trofeo Mezzalama ed hanno consentito alla giovane Axelle di confermarsi al secondo posto della Coppa del Mondo ISMF Overall e prima di categoria Espoir. La migliore azzurra in classifica è Katia Tomatis che nella classifica generale vinta da Laetitia Roux è nona. Invece la Tomatis nella speciale classifica Long Distance è quarta. Le altre azzurre in classifica sono Elena Nicolini, sesta nella Long Distance e undicesima nella Overall, Martina Valmassoi è decima nella Long Distance mentre nella classifica generale è dodicesima.
In the women's field, Axelle Mollaret put in an outstanding performance together with Emelie Fosberg (both Karpos athletes) and the Swiss skier Jennifer Fiechter to win the Trofeo Mezzalama. This result enabled the young Axelle to take second place in the World Cup ISMF Overall and first in the Espoir category. The best-placed Italian was Katia Tomatis, who was ninth in the classification won by Laetitia Roux. Tomatis finished fourth in the Long Distance specialty. The other Italians in the classification are Elena Nicolini, sixth in Long Distance and 11th Overall, and Martina Valmassoi, 10th in Long Distance and 12th Overall.
Scegli anche tu di vestire la tua squadra con gli stessi capi della Nazionale
Choose to dress up your team with the same kit as the Italian National Team