Saranno sei le squadre: In gara anche le olimpioniche Paola Pezzo e Gabriella Paruzzi
Six teams to compete: Olympians Paola Pezzo and Gabriella Paruzzi will participate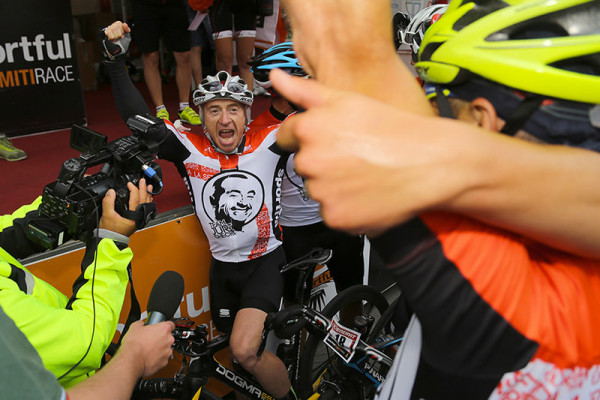 Torna per il terzo anno la SFIDA OLIMPICA abbinata alla granfondo di Feltre Sportful Dolomiti Race del prossimo 21 giugno.
Una sfida a colpi di pedali tra atleti che in carriera hanno vinto almeno una medaglia d'oro alle Olimpiadi. Nel loro caso anche più di una…
The OLYMPIC CHALLENGE returns for the third year as part of the Sportful Dolomiti Race granfondo, which starts in Feltre on June 21.It's a challenge on the bike between athletes who have won at least one Olympic gold medal in their careers, and in this case more than one…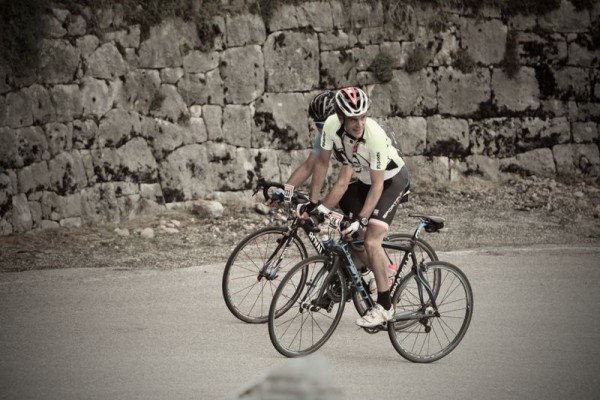 Lungo le rampe di Cima Campo, Passo Broccon, Passo della Gobera e Passo Croce d'Aune (il percorso Medio della granfondo, 132km per oltre 3.000mt di dislivello) torneranno a darsi battaglia JURY CHECHI (il Signore degli Anelli) che dovrà difendere il titolo del 2014; ci sarà il rivale di sempre ANTONIO ROSSI; lo sciatore PIETRO PILLER COTTRER in cerca della rivincita dopo la beffa nel 2014 a soli 200mt prima del traguardo; l'ex Ct della Nazionale PAOLO BETTINI che pare essere già entrato in forma e ha tutte le intenzioni di far vedere quanto vale la sua pedalata.
Ma accanto a queste squadre ce ne saranno altre due capitanate da due campionesse che non hanno bisogno di molte presentazioni e che insieme vantano ben sette medaglie olimpiche: GABRIELLA PARUZZI, fondista, oro nella 30km nel 2002 e 4 bronzi olimpici; PAOLA PEZZO, due ori olimpici in mtb (ma anche due ori mondiali, solo per citare i successi maggiori).
On the climbs of Cima Campo, Passo Broccon, Passo della Gobera and Passo Croce d'Aune (the Medio route of the granfondo, 132 km with more than 3,000 m of elevation gain), the champions will return to give battle: JURY CHECHI (the Lord of the Rings), the 2014 winner, who will need to defend his title; his longtime rival ANTONIO ROSSI; the skier PIETRO PILLER COTTRER, out for revenge after being passed only 200 m from the finish line in 2014; and the former coach of the Italian national cycling team, PAOLO BETTINI, who seems to be in good form already and intends to show what he can do on the bike.
But there will also be two additional teams, captained by two champions who need very little introduction and who together boast seven Olympic medals: GABRIELLA PARUZZI, cross-country skier, winner of the gold medal in the 30 km in 2002 and four Olympic bronze medals, and PAOLA PEZZO, winner of two Olympic gold medals in mountain biking (but also two gold medals at the world championships, to mention just the major victories).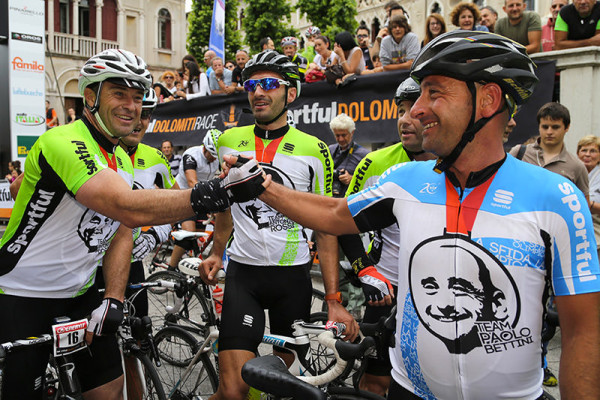 Da ieri fino alle ore 12 del 18 maggio ci si potrà iscrivere gratuitamente alle squadre di appoggio ai sei campioni che parteciperanno alla Sfida Olimpica.
Per iscriversi basta entrare nel sito della granfondo www.gfsportful.it e cliccare sul logo della Sfida Olimpica oppure entrare nella pagina dedicata alle "iscrizioni" e scegliere l'opzione "sfida olimpica online".
L'iscrizione è assolutamente gratuita.
Unico requisito: essere già iscritti alla granfondo Sportful Dolomiti Race.
Tra tutti coloro che si saranno iscritti verranno sorteggiati i componenti delle squadre dei gregari che pedaleranno fianco a fianco dei campioni, lungo il percorso Medio della granfondo del 21 giugno.
Le squadre saranno formate da un capitano e 5 gregari che dovranno pedalare insieme, fermarsi ai ristori e tagliare il traguardo almeno in 2 con il capitano.
A tutti i team Sportful farà omaggio della divisa della squadra con l'immagine del proprio capitano.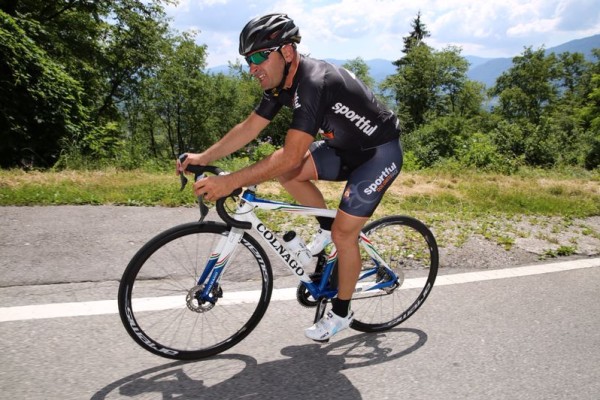 From yesterday until noon on May 18 riders can register for free to join the teams supporting the six champions who will participate in the Olympic Challenge.
To register, just go to the granfondo website, www.gfsportful.it, and click on the "La Sfida Olimpica" logo or, under the drop-down "Registration" menu, click on "Online Sfida Olimpica."
Registration is absolutely free.
Only prerequisite: You must already be registered for the Sportful Dolomiti Race granfondo.
From among all those who have registered, names will be drawn to determine the team members who will ride alongside the champions on the Medio route of the granfondo on June 21.
Each team will be composed of a captain and 5 support riders who must ride together and stop at the feed zones, and at least 2 must cross the finish line with the captain.
Sportful will offer complimentary team kit to the participants, with each team's jersey featuring the image of its captain.